The new Civil Rights drama from Ava DuVernay, Selma, starring David Oyelowo as Martin Luther King Jr., is set for a wide release this weekend after a limited release in December.  The movie has not been without its controversy since it made its way around the festival circuit in 2014, and it has since elevated as it was released to general audiences.  IndieWire had a nice report of DuVernay's comments at a luncheon discussing the film with 'CBS This-Morning' co-anchor, Gayle King.
DuVernay addressed a lot of the criticism, specifically around the portrayal of Lyndon B. Johnson's handling of the Selma Civil Rights march.  She also was quoted as what she thought the film would be about.
"This film is a celebration of people, a celebration of people who gathered to lift their voices, black, white, otherwise, all classes, nationalities, faiths, to do something amazing,"
There are also comments from Gay Talese, that covered the Civil Rights movement for the New York Times in 1965, that are well worth the read.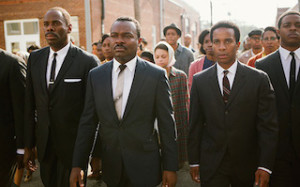 It is incredibly important, given the events of the last year in Ferguson, Brooklyn, and around the US, to take seriously the subject of Selma, as well as the importance of Ava DuVernay, an African-American director, being in the Oscar conversation.  I'm sure we will talk about this more when I post my review of Selma this weekend.  Let us know what you think of this article, the movie, and if you are going to see it this weekend.
As a side note to this conversation, I like reading the articles at the website IndieWire in order to keep myself honest and growing as a movie lover and a film reviewer.  They are very technical, focused a lot of times on smaller movies, tackle a lot of really important issues related to minority and foreign film-making and highlighting lesser known creators, writers, producers, etc.  I highly recommend if you are not reading their articles to read them.  If you are a director, writer, producer, working on films, or just love to watch them, it is a great resource and place to keep up on issues of film and discover smaller films, as well.
---
Josh Crabb (@HeyItsThatJosh) is an editor, writer, and sometimes contributor to the podcast for Reel World Theology.  Most Wednesdays he posts a helpful or interesting article that will get us talking about movies or important trends in film.  Other Wednesdays he's working on his Hump Day Camel impression.