Another weekend in October means we've been busy watching horror movies in order to recommend them to you to watch on streaming services this weekend. Check out our contributors three picks and have a happy, horror-filled movie weekend everyone!
[divider top="no"]
via Josh Crabb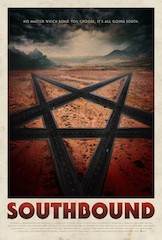 Southbound (Amazon Prime) – Horror anthologies have a long and storied history. Classic anthologies were a normal part of television dating all the way back to Alfred Hitchcock and the 1950's. Classic shows like Night Gallery, Tales From the Crypt, and The Outer Limits are the most well-known, but even Nickelodeon got in the act with the 90's campfire ghost story show, Are You Afraid of The Dark?. The more recent, modern output in horror anthologies have allowed a slew of horror directors and writers to blood themselves in the genre.
Southbound relies on the sum of its parts, all five interconnected stories center on guilt and the swirl of emotions accompanying them. An interesting meditation on a weighty topic but the overall narrative falls short of its intentions. It needed to be more Stephen-King-short-story-collection-like, with clear delineations between the plotted stories, to have more impact. While it was clear how the two bookend stories tied together, the middle three lacked cohesiveness and the third story was, by far, the best one.
A group comprising many producers, directors, and writers behind the V/H/S movies, this team is truly getting closer to making something great. I liked this in some parts, but not in others. Keep an eye on David Bruckner. His written and directed segment, Lucas' story, about a man trying to make right a terrible situation that is all his fault was intense and thought-provoking. The movie is well worth it for that story alone.
[divider top="no"]
via Mikey FIssel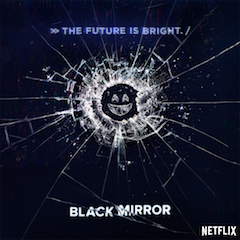 Black Mirror – Season 3 (Netflix) – Black Mirror has likely already been referred to by better critics than I as, "The 21st Century Twilight Zone." While not strictly a 'horror' show like you would find in American Horror Story, The Walking Dead, or, heck, even Ash vs The Evil Dead, it is haunting at times and does what good horror often does– hold up a (black) mirror to show up the darkest parts of our humanity. Again, it's not scary per se, but it does make you think… a lot. Sometimes freaky, sometimes indicting, we often see current societal trends followed to their logical conclusion or technology run amuck. In all this, the show keeps getting smarter and smarter. Six new episodes will hit this October, so catch up on the old and get ready for the new!
[divider top="no"]
via The Film Avenger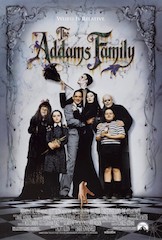 The Addams Family (Netflix) – This film is one of the strongest cinematic adaptations of a venerable television show that has ever been done. It is the story of a very odd family that is steeped in the macabre. Not necessarily bad people, just quirky and different. Morticia and Gomez clearly love each other, and love their children dearly. Director Barry Sonnenfeld was a great choice for this movie – as he infuses his films with a wry, tongue-in-cheek type of humor that is perfect for this kooky-spooky-ooky family. The cast also appears to be having a lot of fun, especially Raul Julia (Gomez), Anjelica Huston (Morticia) and Christopher Lloyd (Fester). If you're looking for something less gory and more spooky fun this Halloween season, be sure to check out this film.
[divider top="no"]