Welcome back boys and girls of all ages, to the land of supernatural other worlds, sinister mad scientists, and the scariest thing that looms for us all: internet spoilers. Yes, clear your schedules, for it is fastest-to-the-finish binge watching time thanks to the white-knuckle thrill ride and cultural phenomenon known as Stranger Things. (I once had a life. I will miss it this week.) I couldn't be happier to dive in to part deux of a show I became fully invested in last year, and I fight to duck and dodge the internet's obsession with ruining things for the simple fact that what Stranger Things does so well is keep us in the dark.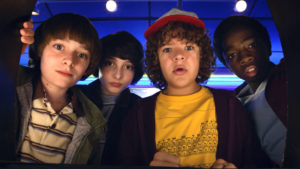 As my wife and I cozied up for the first episode of season two, there was a lot of "wait, why did that one thing happen?" and "how did Eleven get her power?" and so on. The answer we obviously kept coming back to was "oh right, they never told us." And here we are again, strapped in for a dark ride through the woodsy and heavily fog-machined (I'm guessing) town of Hawkins, Indiana, still with much to uncover. However, if the first episode is a true indicator, it appears we are being thematically primed for digging deeper into our story's mythology.
From our first scene, we encounter a few new faces in masks. Foreshadowing for the Halloween-heavy storylines ahead? Definitely, but of course, also for much more. There are a few things this show really likes to do and one of them is to keep things hiding just beneath the surface. Literally. A dangerous and dark world hides just beyond a crack in the wall. A friendly face like Paul Reiser's Dr. Owens is obviously not intending friendly things. And a bank robber is actually another telepathic, this time with the number "008." Slowly we grow to understand these things because the nature of a mask is, after all, simply to hide the real face. What else is there to do but to reveal it?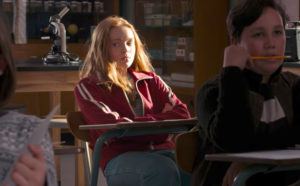 Where the first season was content to simply keep us guessing while immersing us in a town that almost instantly felt like home, this season has made it clear it intends to build the world for us a bit more. New things should serve to bring more clarity to the old. And so enters our "latest passenger to join us on our curiosity voyage," Mad Max. A moniker is just a stand in for another mask, and quickly her true face is revealed. Max's newness and naiveté mirrors that of our four friends from season one. Bob the Brain mirrors Joyce's. And here's where I thank God for Sean Astin's perfectly bumbly Bob, the most welcome new addition. Oh, how much these newbies have to learn.
"Love does not delight in evil, but rejoices with the truth." – 1 Corinthians 13:6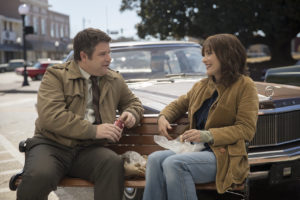 As we reacquaint ourselves with the citizens of Hawkins, we are reminded of what knits them together. I love Mike's selfless acceptance of his friends despite what weird (or you could say, Strange) things happen to them. I love Hopper's taking in of Eleven despite the risks. I especially love Bob's doofy camaraderie with a family he's just getting to know. Acceptance permeates Hawkins. As Paul write's in Corinthians, love rejoices with the truth. Think about that. Love doesn't just accept truth, or put up with it. It rejoices with it. Love throws a party for every time someone's truth is revealed. That's the only thing that can truly conquer evil                                                                                                       from other planes of existence.
Are you still reading? I'll say thank you, but also GO! Run far from the internet and into the solace of your living room to watch the rest of the season already! Because there is power in knowing, but there is also power in the journey to know. That's something to remember when you next encounter a masked individual, and I suspect there will be a few knocking on your door this week. It's easy to accept what you see, but far more loving and life giving to dare face the unknown waiting beneath the surface.
Find our entire Stranger Things series by clicking HERE!