Barb is dead. Long live Barb!
Nancy gives in to Steve's consistent pursuit of her after the pool party while Barb struggles out of what the audience now comes to see as a parallel reality: She is in the swimming pool, but, instead of water, there are pulsing black vines, the same ones we have seen throughout the series so far. In what has become one of my favorite scenes of the show so far, we see the back and forth between Nancy and Steve's acts of intimacy intercut with scenes from Barb climbing up the alternate pool ladder in order to escape the "man without a face." As Nancy and Steve build toward climax, hands intermingling and squeezing tight, we see Barb's hands squeezing tight to the pool handles before being pulled back into the abyss of luxury. Both acts ending in a form of lost innocence and death of being, one literal and the other metaphorical.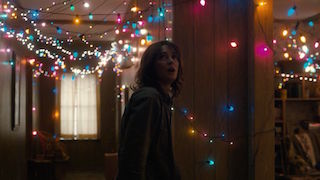 The order in Hawkins is starting to break down with the disappearance of Barb, along with Will. Sheriff Hopper is beginning to see past the web of lies that the staff of the Department of Energy has spun. He knows that they know, at least, part if not the whole of what is happening in the town. He and Officer Powell dig deeper into the newspaper archives and find Dr. Brenner has a history of experimentation with LSD and mind control on patients as a development of a human weaponry against the Communists (this is the 80s after all!). While he certainly knows there are connections, they are merely loose strands at the moment. The investigation continues.
Meanwhile, Joyce seeks consolation and communication with her son through a simple Morse code of strung Christmas lights and lamps. According to the blinking lights, Will is alive, but he isn't safe and something ("the man without a face"?) keeps morphing through Will's bedroom wall as witnessed by Joyce and Mike's sister, Holly.
Throughout the episode, we see flashbacks of Dr. Brenner's experiments with El as she crushes a Coke can and refuses to kill a cat (but ends up killing two guards) with her mind. There is a strange distorted familial relationship between El and Dr. Brenner whom she calls Papa. Dr. Brenner seems to be the central link to explaining that darkness that has descended upon Hawkins.
Mike, Lucas, and Dustin are led by El (Eleven) on a trip to seek out Will and the trip finds them right back to the beginning: Will's house where El says he is hiding. We have a sense of what she is saying. He's the Schrödinger's cat of missing persons: there, but not "there." Our boy wonders' trust of El is challenged when Will's body is pulled from a lake. Seemingly, the boys and Joyce were too late to save Will from the fate that has been dealt him.
This singular episode should be the final nail in the coffin of your indecision about sticking with the show—though I am a little concerned for you if it took this long. The proverbial dung has hit the fan and we all have a front row seat.
I noticed something in this episode that is present in the other episodes, but for some reason didn't strike me within the others: there may be a sneaky, subtle commentary on relationships and technology going on here. Hear me out. Joyce finds solace and semblance of calm through the use of handfuls of tangled and untangled Christmas lights. Jonathan develops pictures he took of Steve and Nancy on the night of Barb's disappearance, focusing exclusively on Nancy. El has a flashback after seeing a Coca-Cola commercial on the Wheeler's TV. Hopper and Powell dive deeper into the person of Dr. Brenner through microfiche of newspaper articles.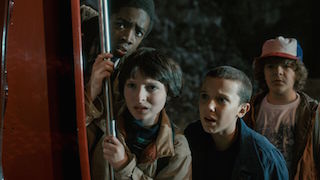 All of these elements coalesce into this seemingly mundane, but strangely prophetic statement about humanity and the relationships we have. Even in the 80s when a computer that could do everything our phones can do now filled a whole room, we mediated our relationships through technology. Sure, it wasn't instant like social media is, but Stranger Things shows us that technology has always been something humanity has used to seek understanding and connection with another human being. Whether it is through the visual image of a photograph of Nancy or a commercial instigating a memory of a prior relationship, it is technology that provides the means of connection. To see that so starkly shown in a show about the 80s speaks like a megaphone into our world where social media has become the scapegoat for all of our relational disconnects.
Technology isn't the problem. If used well and ethically, it can be a grand tool, but add in a strong mixture of human nature and that is when the wires begin to fray. If this theme truly is as stark as I think it is, then it hits an even more profound nerve when the two biggest breakdowns of relationships in the third episode are Nancy's physical absence when her friend needed her and Mike's incomplete understanding and crumbling trust in El when she brings the boys to Will's house only to find his body turn up in a lake. Neither of these moments was mediated through technology. Instead, they were physically present and intimate relational moments.
The rivers of commentary running underneath this episode—and the series as a whole—became secondary though when the image of the still body of Will Byers is drawn up out of the lake. Innocence and hope have been, seemingly, lost and the fallout is what we have to look forward to in the remaining episodes. The hook has been inserted and all we, the audience, can do at this point is go the way of Barb: drawn into the deep, deep abyss. For there and only there can the truth be found in the valleys of the shadow of death.