Everyone loves lists.  Top Tens, Billboard Top 200, Bottom Ten, Top 100, etc.  It is inherent and ingrained in our human nature to take the chaos around us and put it in some sort of orderly fashion.  Every Tuesday, Josh lists his Top 5 movies based on an actor, genre, director, theme, holiday, sandwich or general whimsy and posts it for your consumption and discussion.  If you want to submit your own list you can email Josh at J.A.Crabb22@gmail.com with the subject line, "RWT Top 5 Tuesday", give a short 50-100 word description of the theme and your choices, you could end up seeing your list right here!
---
TOP 5 TUESDAY – THE FILMS OF DAVID FINCHER
There has been a lot of buzz here on Reel World Theology surrounding David Fincher as of late.  Our last podcast episode was on one of my (Josh) favorite movies of all-time, the philosophical homemade dynamite Fight Club.  Also, David Fincher's newest film, Gone Girl, came out to rave reviews and a box office win this past weekend.  Needless to say, we have David Fincher on the mind.
During the course of our conversation on Fight Club, Griffin, Fizz, and myself talked a little bit about David Fincher and his filmography, and that spurred this week's Top 5.  David Fincher has an impressive list of movies and we could not really find an example of a major dud, with Panic Room, starring Jodie Foster and Alien 3 being his lowest rated films.  However, we're looking at the strongest movies Fincher has directed and will begin with a Top 5 first, which is an honorable mention for his latest film, Gone Girl.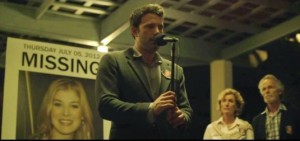 (Honorable Mention) – Gone Girl – I won't say much about Gone Girl, since I have not seen it, except to check out the Reel Quick Reaction from Fizz, Laura, and Griffin on the movie.  As Griffin so eloquently puts it, "[Fincher] pees with the seat down, and [has] never missed, ever."  Go see this movie!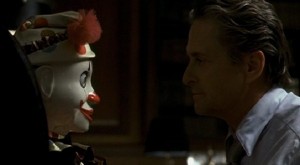 5) The Game – Like any director, shades and shadows of where they might be headed in their filmography can be seen in what has come before.  In all the films of this Top 5, we can see what has come before and we can see how a director develops his cinematography, his point of view, narratives, and start to see common patterns, symbols, and methods.  In relation to Fincher's newest film, Gone Girl, from what I have read and heard of non-spoiler reviews and articles, Gone Girl shares some elements with one of Fincher's lesser known films, The Game starring Michael Douglas and Sean Penn.  The Game is in a similar mold to a lot of what Fincher has done.  It is a mysterious, darker thriller that is more of a character focused drama than maybe some of the more narrative-driven dramas Fincher has done like other movies on this list.  Also, from what I have heard of Gone Girl, there are dark humor elements that are shades of The Game and his other movies (Fight Club comes to mind right away).  Michael Douglas is superb in one of his better roles and this is definitely a gem few people are aware of in Fincher's collection of fantastic movies.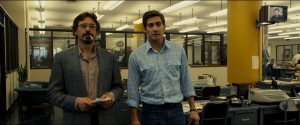 4) Zodiac – Zodiac is probably another more direct influence on Gone Girl than some of Fincher's earlier works (I know I am going off of what I read, but I trust the critics overall views to inform me here).  Jake Gyllenhaal, Robert Downey Jr, and Mark Ruffalo are all fantastic in this disturbing movie about the real Zodiac killer.  From start to finish there is so much to gush about in this film.  It's haunting, disturbing, and a powerfully moving movie.  Joon-ho Bong has said of this movie that it is practically perfect and it is one of his top 10 most influential films and his Memories of Murder is a very similar film (even though it was made before it was very Fincher-esque).  The tone is even darker than that of Se7en and it is more complete as a cinematic vision and is a masterful thriller that is a launching pad for what Gone Girl is.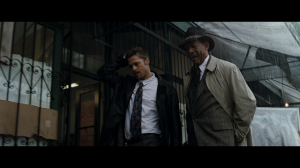 3) Se7en – It might seem a little strange that I have Se7en above Zodiac when I just said that Zodiac is a more complete cinematic vision than Se7en, however I believe that Se7en had more cultural weight and overall is a stronger and more complete narrative than Zodiac.  I'm all about the more practical aspects of movie making (lighting, editing, production, cinematography, etc.), but when a narrative like Se7en is so strong and appeals so well, it's hard to ignore its greatness and impact.  As we had talked about on the Fight Club podcast, this is really Brad Pitt's last role before Fight Club would change everything about the kind of roles he would take.  Pitt is fantastic and his acting partnership with Morgan Freeman is perfect for this film.  Kevin Spacey, who was not advertised to really be a part of this film, magically appears at the end of the film as the killer and does a great job of being an unnerving psychopath.  Another disturbing film of Fincher's that makes you think, but also squirm.  And of course, who can forget the ending?  "What's in the box?"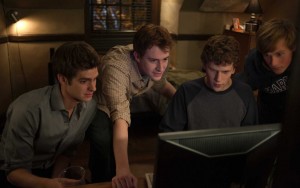 2) The Social Network – Seen as a curious choice at the time for someone who had directed Se7en, Fight Club, and Zodiac, the story of Mark Zuckerburg and Facebook was a huge narrative risk for Fincher.  It wasn't taking a fictional story and bringing its vision to reality, ala Fight Club, and it wasn't even taking a true-story like the Zodiac Killer and applying his cinematic palette to the story.  The Social Network should have been Fincher's flop, a contentious current story with conflicting stories from its cast of real-life characters, and a critically panned attempt at cashing in on a cultural rocket ship.  However, it was anything but that.  The great casting and performance of Jesse Eisenberg, who's performance as Mark Zuckerburg was Academy-worthy and amazing, and Justin Timberlake as Sean Parker, the equally famous Napster founder, were the wild cards that turned up aces for Fincher.  Add his strong direction, careful manipulation of the story, and his normal brilliant cinematography, the movie is one of my favorites of his and one of the few movies I like that my wife actually likes!  Hooray!  Sometimes an artist needs to make bold choices to continue to grow and to make a splash, and Fincher did that and delivered.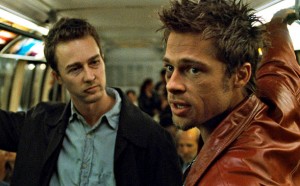 1) Fight Club – Could it really have been anything else?  Not for me and really not for anyone who is a part of Reel World Theology.  I could gush and wax philosophical about what this movie has done, but I won't.  What I will say is that this movie is a cinematic turning point and defines where Fincher was and where he has gone since.  Listen to our discussion of this movie and join our conversation about this film.  And, stay tuned for a discussion on Gone Girl in the near future.