With Opening Day in the rearview mirror and the fresh excitement of a new baseball season upon us, it seems only natural to take the bull by the horns and look back on some of the best and most essential baseball movies of all-time. There is no bad news here and these movies are in a league all their own when it comes to America's game. So join me on a field of five great baseball movies I put together after hearing the idea whispered to me in the quiet of a Midwestern afternoon.
[divider top="no"]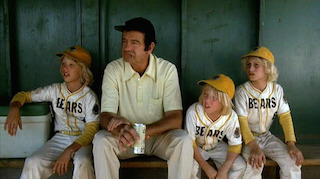 In retrospect, I am not really sure why my parents let me watch this movie when I was a kid. I loved and played baseball, so any baseball movie almost instantly became a favorite—Angels in the Outfield and Rookie of the Year immediately come to mind. However, of all the movies I watched focused on kids playing baseball, The Bad News Bears is, by far, the strangest and most hilarious.
Starring Walter Matthau as Morris Buttermaker (what a name), a washed out minor league coach, takes on coaching a ragtag group of misfits in the hyper-competitive California Little League. His team has little talent and would rather sip on Morris' cheap beer, but their coach is committed to taking this team from zeroes to heroes by adding a talented girl-pitcher, Amanda, and Kelly, a young motorcycle punk, who turns out to be the best player on the team. As a young, little league boy, this seemed unconscionable. The boys of the "bad news" variety respond much the same way; with indignation and scorn. At least, until the girls start to pitch, hit, field, and pretty much everything else. It exposes the petty and sometimes awful world of an "all-boys club" mentality and is unapologetic about making teamwork not just working past the differences of a bunch of tween boys, but also exposing the often sexist nature of Little League baseball. For that alone, and it being purely a "for the love of baseball" movie, it makes the #5 spot.
[divider top="no"]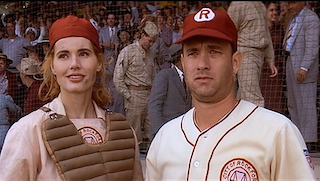 The movie that brought us no crying in baseball is one the most underrated baseball movies of all-time. Perhaps it has a lot to do with the cast of females in the title roles. Now, before you think of me as terrible for saying that, consider the possibility with me. Like the soon-to-be-released all-female Ghostbusters movie, people saw this movie as somewhat of a retread within the genre but with females. And somehow, that immediately makes the movie a little worse. In the case of the new Ghostbusters, that apparently makes it instantly terrible (not true at all). The often ignored nature of this movie is even more ironic when you consider the premise of the whole movie is inserting female characters into traditionally male roles. It's like the reverse of Mr. Mom for baseball lovers.
Perhaps the best way I can put Penny Marshall's exceptional film is from our very own Film Avenger in his recent streaming recommendation:
"[L]ike all great sports movies, it's about more than just the game. It's a celebration of the strength of women and what makes women unique in creation without being overly preachy or derogatory toward men."
[divider top="no"]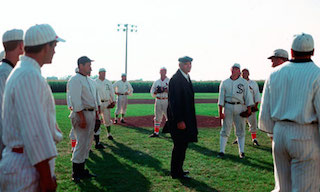 A movie people are often divided over, I fall in the camp of those who love and revere this cinematic baseball classic. While the movie suffers from truly sappy moments, which is where a lot of the criticism of the movie stems from, I find the sappiness to be won over by its genuine heart not only for baseball but for reconciliation, love of family, and the oft-maligned American Dream.
The movie is a throwback to the era of Frank Capra and Jimmy Stewart. And you can even throw in Burt Lancaster, a fabulous classic Hollywood actor, for good measure. It's a good ole fashioned American feel good film and is unapologetic for being what it is. From the rock solid love between Costner's Ray and Amy Madigan's Annie to those tear-jerking moments between Ray and his father, a kindness and niceness permeate the movie we really don't get, except in animated movies and 90's TV, that has been dispensed for dark "gritty" reality. Not that there is anything wrong with realism other than that it has been exploited to death in the last decade; as much as Frank Capra's mood and aesthetics were half a century ago. 
Most of all, the movie is about dreams and believing in something bigger than yourself. While the movie makes no apologies for being solely devoted to worshipping at the altar of baseball and post-WWII ideology, it does preach a message of something transcendent beyond our temporal experiences. Unlike the other movies on this list, it's not about the magic of the game itself, but the magic and significance of life with baseball as a catalyst.
[divider top="no"]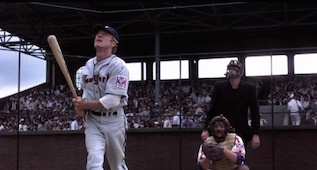 If you thought people were divided on Field of Dreams, then The Natural has a fractious gulf between those who hate the film and those that revere it. And it can hardly be argued effectively why one should make the leap to the other side. Field of Dreams preached baseball as a religion. The Natural preaches Robert Redford's Roy Hobbs as it's savior. Everyone but Hobbs is selfish, unlikable, and not very nice people. Hobbs is a man destined for greatness and we root and cheer for him at every turn. Many moments in the movie inflate his sense of importance and rise to fame. For some, it is too much to take.
And yet, I cannot shake how indelibly great this movie is. It captures both the fervor people had for baseball at its height of popularity and encapsulates the magic of America's game. Hobbs' bat of destiny, Wonderboy, his epic, scoreboard-shattering home run scored to Randy Newman's fabulous composition, and even his game-ending strikeout are stand-ins for hallmarks of the mythos of baseball. Everyone had a "lucky" bat or glove, everyone has that hit they'll never forget—either watched on TV, in-person or experienced themselves—and everyone has the out they will never forget. While we can quibble if "Casey"/Roy should have struck out at the end of The Natural, I don't think we would quibble with the magic of Kirk Gibson's walk-off in the 1988 World Series—four years after The Natural—or my own favorite memory of Ryan Braun's home run to send the Brewers to the playoffs for the first time in 16 years back in 2008. The Natural argues magic moments really do happen. 
Perhaps should be #1 for its cinematic pedigree and downright religious devotion to the game of baseball, but you'll soon understand why it comes in second to the next movie.
[divider top="no"]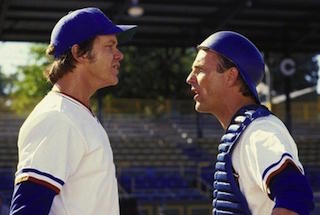 It's a love story, it's a baseball story, it's a story about a love for baseball. When it comes to movies about America's Game, there can be no other for the hardcore fans of the game. So true to the minutia of baseball, it bleeds an understanding of the game and its passion, as well as a good-natured and fun approach to the game itself. The movie functions as a romance tale, a comedy, and a sports movie, but balances them all in a way that avoids being familiar or tonally uneven.
Written and directed by Ron Shelton, who played minor league baseball in the Baltimore Orioles organization, Bull Durham was the first, and arguably the best, of many sports movies Shelton would write and direct. Shelton had a knack for making sports movies that felt like true sports films, and while the cinematic qualities of the movie lacked any sort of originality in form, the worlds his characters inhabited were impeccable and lived in. If people would complain about A League of Their Own being nothing out of the ordinary because it was, "just another baseball movie," Bull Durham was to blame for setting the standard of how you made a baseball movie feel like a baseball movie.
Besides being a hopeful, romantic movie with a fabulously redemptive, yet slightly undeserving, ending, Costner–there is something about Costner that always made him ideal for sports movies–and Robbins' comedic chemistry is dynamic and side-splitting fun. Their performances, along with Shelton's Oscar-nominated screenplay, perfectly capture what playing baseball has always been about; serious, sweaty, passionate fun. No baseball movie, in my opinion, can ever be as self-serious or procedural as Moneyball or any boxing movie since Raging Bull. There is a goofy side to baseball because of its slower pace than football and basketball that, when missing, loses the essence of what makes the game great. Bull Durham, as I said before, balances those different aspects and creates the perfect baseball movie as a final result. To vote any other way, to be hyperbolic, is to also believe MLB should have a designated hitter; it's asinine.