With the impending release of Richard Linklater's Everybody Wants Some!!, a spiritual sequel to his classic coming of age movie Dazed and Confused, it seems appropriate to reach back into the formative years of life to look at five movies widely considered some of the best stories of teens and young adults journeying to adulthood. It can take place on the streets of Paris, the swamps of Mississippi, or the dusty back lots of suburban California, but all these movies touch a key nerve in the painful and beautiful experience that is growing up.
[divider top="no"]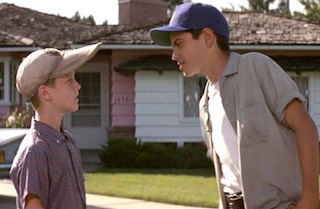 Some of you might be saying, "You're killing me Smalls!" Granted, there are probably a lot of "better" movies I could put here, but the #5 slot is reserved for a movie that formed me, shaped me, and furthered my love of baseball. I would probably have been one of the rich kids with a nice, white uniform the kids from The Sandlot play, but their love of baseball and backyard ball roots resonate deep in my soul. It reminds me of dusty hands, the crack of the bat, the pop of a baseball in my glove, and the satisfaction of hearing your cleats crunch on home plate. No other movie I know captures the childhood joy of playing ball with friends. From the steel-hard conviction of being tagged out to the fear of what lies beyond the fence, this movie is everything I ever felt. And of course, it reminds you of the most obnoxious people you had to play ball with in your neighborhood, but hang out with and think are cool (because dudes don't "love" each other, right?).
More than the milieu of baseball, this movie captures the odd beauty of growing up and the ragtag community that helps us to get there.
[divider top="no"]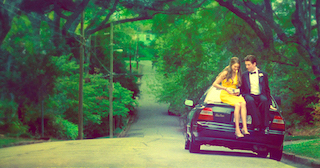 James Ponsoldt's 2013 movie based on the Tim Tharp novel is not only one of the best recent coming-of-age movies, it is one of the best of all-time and one of the best movies of 2013. Starring two actors who were budding stars in 2013, Shailene Woodley and Miles Teller, the story revolves around party animal and class clown Sutter Keely (Teller) and his relationship with the quiet, dutiful good girl Aimee Finecky (Woodley). The movie is partially a romantic drama, but as their relationship deepens on the cusp of their senior year of high school, they begin to explore the deeper and darker recesses of their past as they confront the possibility of a future together. Avoiding melodramatic tones that could have turned it into a ridiculous drama, it makes real choices that lead to deep hurt, painful realizations, but also transformative moments for both main characters. Sutter's moments hit particularly close to home for myself, and in the last fifteen minutes, I saw my 17 and 18-year-old self in Teller's character as he weeps on his mother's (Jennifer Jason Leigh) shoulder. I would suggest if you have not seen this movie, watch it on Amazon Prime immediately.
[divider top="no"]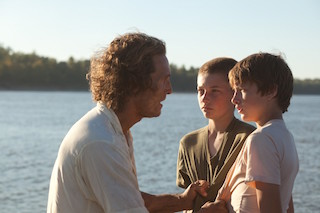 Jeff Nichols third feature film, 2012's Mud, probably doesn't get the attention it deserves as a great coming-of-age movie. While being the triumphant breakout for Matthew McConaughey into Oscar-type movies, it also was the next step for one of the great up-and-coming young actors, Tye Sheridan. After making his debut in Terrence Malik's masterpiece, The Tree of Life, Sheridan would star in this movie and the vastly underappreciated 2013 Nicholas Cage movie, Joe. Sheridan and McConaughey's characters parallel one another in a story of unrequited love and male friendship, and their performances stand out as the most noteworthy. The swampy, Mississippi backwater noir story is filled with foreboding, as McConaughey's eponymous Mud is both a sympathetic character and dangerously unbalanced, but has equally tender moments even as the tension reaches a breaking point. Peter Travers from Rolling Stone said it best of Nichols and Mud when he said the movie has a "bruised beauty." If you haven't seen this movie, it is a must see, especially with Nichols' Midnight Special coming to a wider audience soon (hopefully).
[divider top="no"]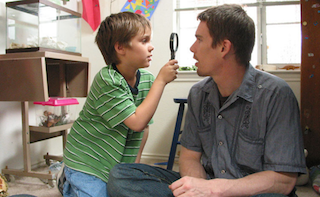 Linklater had to make this list, either for this movie or for Dazed and Confused. It chose the former because I honestly think it is a better movie. Also, it is an unprecedented piece of filmmaking that captures the simpler yet more profound moments of growing up and learning to navigate life, relationships, meaning, change, and moments that seize you.  I can't yet figure out why this movie made me cry, except that it somehow captured the intangible and incommunicable moments of my own boyhood, and parenthood raising my own children, and made them tangible and communicable.  It's hopeful, yet bleak.  Powerful, yet quietly understated.  Joyous, yet tinged with sadness.  You grow up with Mason, literally, and find that boyhood leaves you wanting yet eternally hopeful.  Honestly, adulthood is not much different.
[divider top="no"]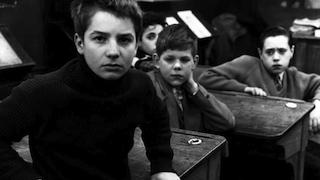 The coming-of-age movie that launched a cinematic movement, Francois Truffaut's 1959 debut became a hallmark of what would become the French New Wave movement led by him and Jean-Luc Godard. Truffaut's film came to define an era of French films focused on youthful rebellion against the established order, experimental approach to form, and a conscious rejection of the literary tradition of period pieces of the time. The movie is full of shots and sequences that would become incredibly influential and have been oft-copied since it's debut. To miss this movie is to be missing out on a slice of incredibly important cinematic history.
Truffaut's classic is the story of Antoine Doinel, played by Jeanne-Pierre Leaud, a misguided yet misunderstood adolescent who is driven to a life of petty crime and juvenile delinquency by a harsh teacher and equally frigid parents. While the movie celebrates the spirit of irascible young boys, especially in one delightful and influential birds-eye view of Doinel and his classmates cutting out of calisthenics, it is also keenly aware of the fragile and innocent nature of adolescence. Doinel, a semi-autobiographical character of Truffaut, longs to connect with others and to find his way in the world but is ultimately a victim of both his own choices and a lack of sympathetic love. The most difficult reality of Truffaut's movie is how the right negative environment could have enveloped any of us in our youth into a life no child would want in either an austere and harsh rehabilitation center for juvenile delinquents, or making a life for yourself on the streets. How fortunate we are  and what a responsibility we have as adults to create an environment of love and understanding for the next generation of turbulent, confused, and impressionable youth.