Happy 2016 everybody! 2015 has atrophied into dust and been replaced by a brand new 2016 baby. The holiday movie season is finally winding down and the numbers from 2015 are in. Last year, we used our first two Top 5's of 2015 to look back at 2014, and this year we are doing the same thing. It was a banner year for box office numbers and this is the first time ever the top two movies in a given year earned over half a billion dollars domestically. And given that the #5 movie grossed more than last year's highest grossing movie, American Sniper, we can safely say 2015 has been a recovery year after the disappointing 2014 movie box office numbers.
All that being said, let's dive in and talk a bit about the five highest domestic box office movies of 2015, starting with an early-year record breaker.
[divider top="no"]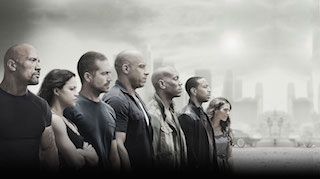 5) Furious 7 – Domestic Gross $353,007,020
The much more impressive numbers for the seventh installment in the Fast & Furious franchise came overseas, where the movie made over a billion dollars, but the total haul for the movie was still a major success. As mentioned previously, the movie did so well it even bested 2014's #1 movie. More encouraging than its box office success is the critical and overall audience reception it received. It has been debated as one of, if not the best, movie in the franchise and was a thrilling chapter in the story with new and old characters showing up. It should have been the one that showed the franchises age and lack of staying power, but it did the exact opposite and even made burly dudes cry with a touching final goodbye to Paul Walker. Well-deserving of its spot among blockbusters of 2015.
[divider top="no"]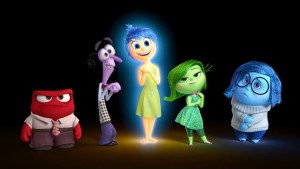 4) Inside Out – Domestic Gross $356,461,711
A complete return to form for Pixar after a couple disappointing installments and even a disappointing follow-up in the fall of this year with The Good Dinosaur. The proof is in the pudding, so to speak, with this movie, and the quality and narrative and emotional power of this movie is reflected in the gigantic box office returns. Personally, between seeing it three times in theaters by myself, then with my kids, and then my wife and friends, and also buying it for our kids to watch, I have seen this movie at least 9 or 10 times from beginning to end and I never get sick of it. I love this movie for it's fun, its depth, its moving portrayal of life, emotions, and family, and it's tremendous cast of characters and voice talents. It is definitely in my top 5 movies of 2015 and you'll have to wait and see where it lands within that elite group.
[divider top="no"]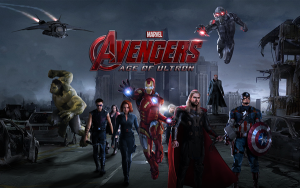 Any other year, Marvel/Disney/Joss Whedon's follow-up to the mega-successful The Avengers movie would have dominated the box office. However, the expectations and massive appeal of the top two on this list leave Age of Ultron wanting for a top spot, but it by no means signals a lack of quality in the movie. I loved this movie and while I didn't think it lived up to previous Marvel movies, it was tons of fun, extremely well-done, and a well-executed sequel to the previous superhero team-up. Some of the lack of box office–again, compared to the mega-blockbusters of this year–for this movie may have been as the popularity and quality of MArvel's movies has grown, they have been adding superheroes to non-Avenger style movies and those movies have been a bunch of Avengers sequel-prequels. Of course, $450 million is nothing to snub your nose at, but it does show a waning excitement about the team-up movies since we have been getting team-up movies for awhile now.
[divider top="no"]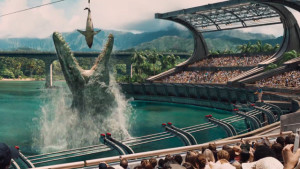 2) Jurassic World – Domestic Gross $652,270,625
To be completely honest, I did not see this one coming. While I knew of so many people who were excited to see this movie, I had no idea the mass appeal of a re-boot of sorts, nor the rabid fandom that would accompany its release and final numbers. If this movie had stayed at the top and been the #1 grossing movie of 2015, I would have been worried. It had spectacle and hype, but I did not like this movie and felt it is the only movie in this Top 5 to fall victim to the normal blockbuster movie tropes. The more troubling aspect, to me, is in its ability to revel in the nostalgia of the original, but it also took a bunch of mean-spirited swipes at its own meta-reality. It felt like the very first "hipster blockbuster"; a movie that revels in irony but also takes the time to hate its own sense of irony and yet also is ironically playful about its own sense of irony. If you didn't follow what I just said, you are probably not a hipster. Or maybe you are.
[divider top="no"]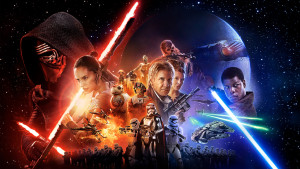 If the hype and nostalgia of Jurassic World were as big as an Indominus Rex, then the hype and nostalgia for the 7th Star Wars movie would be galaxy-sized. I cannot think of a movie in recent memory that caused this much excitement, this much anticipation, nor popular, undeserved backlash than The Force Awakens. Nor have so many people paid this much attention to box office numbers, either. Everyone is hotly anticipating this movie climbing up the charts to overtake Avatar as the #1 highest grossing film of all-time. And as of today's numbers, it looks like it might just happen this week. Avatar sits at $760.5 million domestically, and The Force Awakens is a mere $18 million away and has been grossing between $15-$20 million a day.
All of that aside, the movie rules, and it deserves the #1 spot. It has been a great year in movies, and I am so glad it has been a record-setting year for movies and people seeing them in theaters. Let's hope 2016 can be just as great!