Last year, Guardians of the Galaxy surprised everyone and crushed previous August box office records and became one of the highest grossing movies of 2014. Quick to jump onto that trend, Fantastic Four tried and failed miserably to be the second straight super hero tentpole to snap up the August box office. The Man from U.N.C.L.E. fits the blockbuster mold, and is really great, but is not snapping up the major box office. Right now, Straight Outta Compton is riding big hype train to the #1 spot in August of 2015.
While September is even worse, historically, August is not a big month for box office hits. It is typically a winding down month where the big budget movies tend to be a little bit out there or have some measure of risk involved. They suffer from an overstuffed June and July and the box office death knell of the school bell (sorry again, September). However, some movies, like GotG, persevered and scored big, and this week we are looking at those movies that soared above their end of summer counterparts.
[divider top="no"]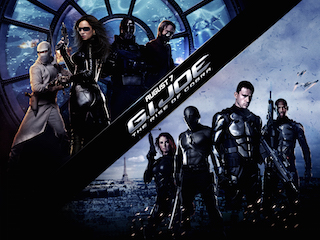 GI Joe is one of those movie franchises that seem as inexplicably loved as Bay's Transformers movies. It grossed a ton of money when it debuted in 2009, and continued to fuel Hasbro's intense hatred of adults in their late 20's and early 30's by ruining everything we once loved about the great cartoons/toys of the late 80's.
It was a big budget, big explosions, CGI-o-rama headache that was mercifully a half hour shorter than Transformers: Revenge of the Fallen. The only great thing I can find in this movie is that Channing Tatum and Joseph Gordon-Levitt both appeared in their very first big blockbuster roles. It was the start of more exposure for both of them that would see JG-L in 2010's Inception and Tatum in 2012's Magic Mike and 21 Jump Street. Also, Ray Park, aka Darth Maul, is Snake Eyes, which is awesome. Other than that…nothing.
[divider top="no"]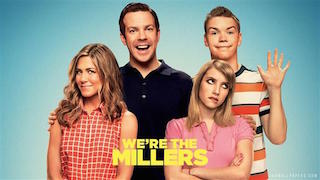 Were you expecting this to be #4? I wasn't either, but I think the reason this movie grossed so much money at the box office was the massive appeal of Jennifer Aniston. If you remember the trailers and advertising for this movie, it played up Aniston's role as the hard as nails stripper, Rose; emphasis on the stripper.
Some of the brighter elements of the movie—Will Poulter's squeaky clean virginal dork, Kenny, being the most luminous—a a smoke screen for the annoying hotbox of script problems and jokes that are cringeworthy.
[divider top="no"]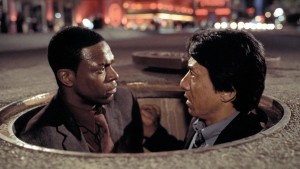 Alright, now the quality is at least reaching a level I can start to talk about a movie…sort of. While many people did not like this movie, I actually thought it was decent. My memory of this 2001 follow up to the much more successful and hilarious Rush Hour might be pretty vague, but I still love Jackie Chan and Chris Tucker at least had some appeal left to his ridiculous comedy stylings.
A straight up, mismatch duo/buddy comedy, Rush Hour 2 finds Chan's Lee and Tucker's Carter vacationing in Hong Kong. Of course, their vacation doesn't last long when they get caught up investigating a counterfeit money scam. Secrets are uncovered, bad guys are busted, butt is kicked, and cracks are made wise. Like it or hate it, this is a fun movie!
The biggest pull in this movie, for me, is Jackie Chan. His marital arts is a kitchen sink type style. Whatever he has around him he is going to use it to gain an advantage over his opponent. It's fun, exciting, skillful, and when he does things like fight with his hands saran-wrapped together, it's funny and almost whimsical. It's a fighting demeanor that borders on cartoonish and his stylings add a populist sensibility to the serious art of putting your boot in someone's temple.
[divider top="no"]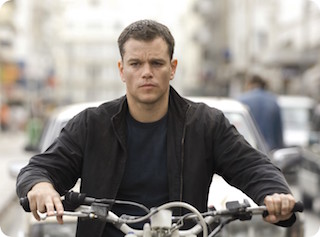 Okay, I am going to cop to it; I haven't seen The Bourne Ultimatum. If it is so willed by you fine readers and the other contributors, I will turn in my Reel World Theology badge and WordPress login and see myself out.
However, if I could offer up a take that will certainly not disappoint, check out Roger Ebert's review of the final movie in Damon's Bourne trilogy. Here is his most entertaining paragraph:
"And why do they want [Jason Bourne] so urgently? Yes, he is proof that the CIA runs a murderous secret extra-legal black-ops branch that violates laws here and abroad, but the response to that is: D'oh! The CIA operation, previously called Treadstone, is now called Blackbriar. That'll cover their tracks. It's like if you wanted to conceal a Ford plant, you'd call it Maytag. Seeking a hidden meaning in the names, I looked up Treadstone on Wiktionary.com and found it is a "fictional top-secret program of the Central Intelligence Agency in the Jason Bourne book and movie series." Looking up "Blackbriar," I found nothing. So they are hidden again from the Wik empire."
I miss you Roger…
[divider top="no"]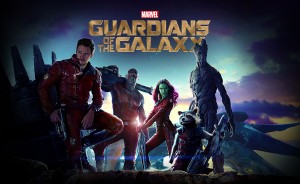 And of course, as I previously stated, here is the #1 highest grossing movie, ever, that debuted in August. There is no way I thought this movie would be as good as it is, and it is everything I could have wanted in a Marvel movie!  Action, adventure, heart, hilarity, unique characters, 80's pop culture references, and oldies music that takes me back.  I didn't see this movie coming and it absolutely knocked me over, as well as box office records.
I am finding excuses to keep talking about this movie a year later, so feel free to call me out on it and get me to stop talking about this movie. Or not…because you don't want me to. We all don't want to stop talking about this amazing movie. I think I'll go watch it again.