You're not going to find any griping here. Neil Patrick Harris reminded us during the opening song of the 87th Academy Awards that, "movies may not show real life, but they'll show you what life really means." Apart from the opinions, the debates, and the "snubs", the Oscars are a celebration of the previous year in movies and we can fully embrace that spirit of celebration here at Reel World Theology.
There were a lot of great things about this past Sunday's Oscars. The speeches were exceptionally great and the music was really great, as well. Not everything can make a Top 5, but there were some clear winners, movies and actors, that made off with hardware or said some amazing things that stood out. In that spirit, here are the Top 5 Oscar Winners from the 87th Academy Awards.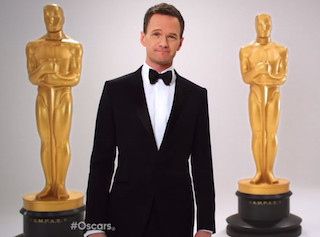 5) Neil Patrick Harris' Opening Song – Written by Bobby Lopez and Kristen Andersen-Lopez, writers of the music from Disney's Frozen, the song "Moving Pictures" gave us some memorable moments and some memorable lines. Including the likes of Anna Kendrick and Jack Black as the Oscar version of Kanye West, it was a fitting tribute to both the positive and the contrarian. The heart of the song was one of celebration. "Moving pictures shape who we are," sang Neil Patrick Harris and reminded us why we watch, why we tune in, and why we entertain movies with our hearts and minds. I'm extremely thankful that the ceremony opened reminding us of this incredible truth and reinforces why I spend so much of my time watching, analyzing, talking about, and writing about movies.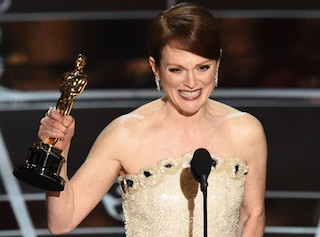 4) Julianne Moore – Nominated for the fourth time this year for an Oscar, Julianne Moore finally was able to get her hands on an Oscar for Best Actress in a Leading Role for her performance in Still Alice. I have not seen the movie yet, but some of her previous nominations and performances make this Oscar incredibly well deserved. I don't want to say that Oscars should be given to actors for their overall body of work, but it is very satisfying to see a top-shelf performer be honored at the highest level for their craft. You can tell when it is well deserved and when the audience in attendance recognizes that this was a long-time coming. I can't wait to see her performance in Still Alice and very excited to continue seeing her stellar career continue as an actress.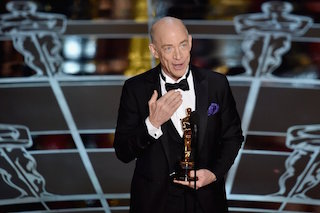 3) Whiplash and J.K. Simmons Acceptance Speech– It may not have won the big prizes, but it was really refreshing to see a movie that had a total budget of $3.3M see an Oscar win per million by taking home three awards. This was by far one of the best movies of 2014 and deserved every accolade it received. Boasting great sound and incredible performances, Whiplash is an intense and thoughtful look at the bloody cost of achievement and success. Director Damian Chazelle put together something incredibly special and what it received was as good as winning it all, in my opinion. As Julianne Moore said, to paraphrase, there are no real "best" of anything, but if we take the Oscars as a celebration, we can be happy knowing the Academy was certainly acknowledging the fine craft of this movie.
Also, my favorite speech of the whole night was the very first one that aired. J.K. Simmons received the Oscar for Best Actor in a Supporting Role, which seemed like such a shoe-in it would have seemed like a typo on the card if he had not got it. When he got up there you could tell, as with Moore, Simmons was receiving something that was long overdue and this movie finally gave him a chance to show the world how good of an actor he is. And then he got up there and didn't use the platform to thank everyone for the award, but to acknowledge what got him up on the stage. His clear message was to not wait for the stage to thank those who nurtured you and loved you, but to thank them right now. Wonderful reminder from a fabulous man.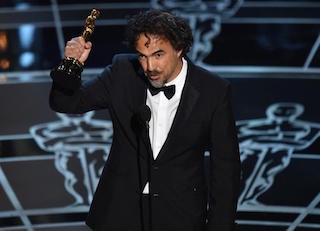 2) Birdman and Auteurs – Let's face it, Alejandro G. Inarritu is a bit of an eclectic auteur. His movies have garnered Oscar attention, most notably 2006's Babel, and his filmmaking has certainly been thrust into the limelight with Birdman's sweeping of the major film awards and its mass appeal. However, Inarritu has been critically hit or miss at times and there is much debate within the critics community if Inarritu is deserving of the attention he is receiving. Scott Tobias of the Dissolve famously started his Birdman review by calling Inarritu a "pretentious fraud" and went on to pan most of his work as being "oppressive" and "self-serious".  Inarritu is certainly an auteur with a particular bent towards bravado, but to go that far was a little much but incredibly indicative of the split opinions surrounding Inarritu's work. I'm optimistic about his Oscar wins since it will allow others that can be the masters of split opinions to get from the seat to the stage on Oscar night.
Oh yeah…and Birdman was a pretty awesome movie.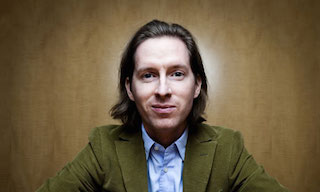 1) Wes Anderson – Stay with me here. No, Anderson did not win any of the major categories, but this is the continuation of my previous thought from Inarritu. Anderson, who is NOT a master of split opinion, has still not taken home the Oscar. Anderson is widely considered one of the best creators and directors in modern movie making, yet his award haul curiously lacks one from the Academy. However, The Grand Budapest Hotel took home four Oscars, the most for any of Anderson's movies, It is my personal and optimistic opinion that this is merely a sign of things to come. A prophetic whisper, if you will, of the Academy's recognition of Anderson's craft and a foreshadowing of Anderson taking home an Oscar in the future. We are unsure of what his next project is, but it is certainly going to be good and you can look back at this article in a couple years and laud the prophetic nature of my conclusions.