With bated breath we wait for the much anticipated new Marvel movie Ant-Man. What I am looking forward to even more than a new superhero movie is Scott Lang being played by one of my favorite actors, Paul Rudd.
Rudd typically is charming, sarcastic, and just a little crazy in his roles, but he does have quite a diverse filmography. I can think of no better way to get ready for Ant-Man than by counting down Paul Rudd's top roles in movies and TV.
*quick note* I have not seen I Love You, Man, which is incredibly quotable and gave us "totes magotes." I plan to rectify this error soon but that is why it is not in the Top 5.
[divider top="no"]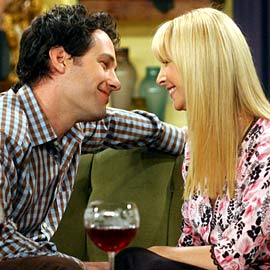 5) Mike Hanigan from Friends
While I disagree with fans of the show that the later seasons were not nearly as good as others, I think we can all agree that Paul Rudd's role as Mike Hannigan was one of the better ones of the later seasons. Introduced to the show when Joey and Phoebe agree to bring a friend and go on a double date with each others' friend and Joey forgets. He stands up in the coffee house when Phoebe say she is coming with her friend and yells, "Mike!" Paul Rudd gets thrust into the date and after a disastrous date, he tracks down Phoebe to ask her out on a real date. In Season 10, Mike and Phoebe would get married and for that last season would flit in and out as the "7th Friend".
Rudd was at his very best in this early role as lawyer who quit his practice after getting divorced to pursue a career in piano performance. His dry humor, matter of fact tone, and occasional silly pushback was the perfect companion to Lisa Kudrow's wild, quirky, name-changing Phoebe. Going back to these episodes are always fun and remind me why Rudd blossomed into one of my favorite on-screen actors.
Phoebe: Yeah, I changed my name. Meet Princess Consuela Bananahammock!

Mike Hanigan: What…? Well, I guess I'm gonna change my name.

Phoebe: Oh yeah? To what?

Mike Hanigan: Uh… Crap Bag.
[divider top="no"]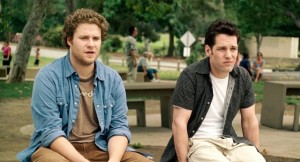 Rudd's bread and butter is playing the everyman character with either a shattered twist or hilarious aloofness. In Knocked Up, he's funny, charming, and a little bit of a broken man. The best parts of his role opposite Seth Rogen is the biting reality he brings to his not so sage relationship wisdom.
"Marriage is like a tense, unfunny version of Everybody Loves Raymond, only it doesn't last 22 minutes. It lasts forever…you know instead of all the funny, pithy dialogue, everybody is really pissed off and tense."
[divider top="no"]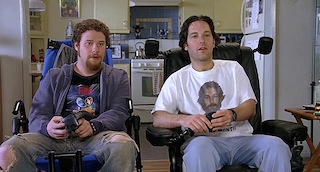 In his role for the Steve Carell comedy, Rudd starts out as a concerned co-worker of Carell's Andy Stitzer. He tries to give Andy a box of pornography to help his fellow co-worker, doles out more horrible and slightly disturbing relationship advice, and eventually has to come to terms with his own sexual past and future. Again, he begins as an everyman character but spirals into a mental breakdown that ends with him swearing off women and taking a vow of celibacy.
"I would rather… I would rather watch "Beautician and the Beast". I would rather listen to Fran Drescher for eight hours than have to listen to Michael McDonald. Nothing against him, but if I hear "Yah Mo B There" one more time, I'm going to "Yah Mo" burn this place to the ground."
[divider top="no"]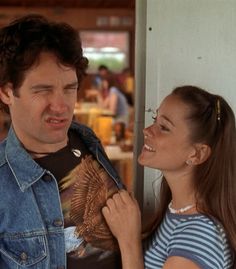 Before he would become a more likable supporting actor, Rudd portrayed everyone's favorite camp jerk, Andy, in David Wain's 2001 parody, Wet Hot American Summer. When he isn't making out with whatever girl suits his fancy, he's changing his mind every minute, and neglecting drowning campers. He doesn't deserve Katie, as he is constantly cheating on her with Lindsay (Elizabeth Banks), yet he's so "cut from marble" Katie won't leave him for the much more deserving Coop. You desperately want him to get what is coming to him, but it never comes to pass and Coop is left depressingly without the girl and Andy is still a giant dill hole.
"You taste like a burger. I don't like you anymore."
[divider top="no"]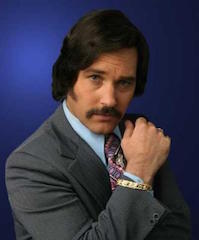 1) Brian Fantana from Anchorman
In his most well-known and career revitalizing role, Rudd is the Channel 4's fashionable, suave, investigative reporter. When he is not out pounding the pavement tracking down the latest stories in the fine city of San Diego, he's organizing news team pancake breakfasts, and applying cologne liberally. The only thing that might be more impressive than his delightful singing voice is his intimidating cologne collection. His best scene unfortunately leaves him in a smelly situation worse than when that raccoon got stuck in the copier.
"They've done studies, you know. 60% of the time, it works every time."