Happy New Year everybody! A lot of new adventures and tons of content are dawning on the horizon here at Reel World Theology, but we're just as excited to keep delivering our existing content with gusto in 2016. If your New Year's resolution is to watch more awesome movie and TV, then we've got three recommendations to get you started on the right foot. However, if you just want something good to watch, you're also in the right place! Get excited about 2016 and enjoy a day made for staying inside and binge watching.
[divider top="no"]
via Gene Gosewehr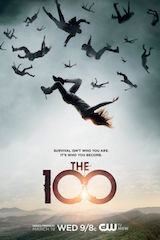 The 100 (Netflix) – This is a newer television series that is heading into its third season on The CW. Taking place a century after the earth was devastated by nuclear war, this story follows the fate of 100 space station exiles sent to earth both as a punishment, and as an experiment. These exiles, mostly teenagers, have to form their own civilized structure in order to survive the new environment, as well as the local inhabitants.
The first two seasons are available on Netflix. If you can be a little forgiving of some first season mistakes I think it will be worth your while by the time you reach the end of season 2. Some throw-away characters begin to gain some depth and it really does a nice job of exploring how far one will go to protect their loved ones while questioning how we determine certain acts to be wrong in one circumstance while understandable in another.
[divider top="no"]
via Mikey Fissel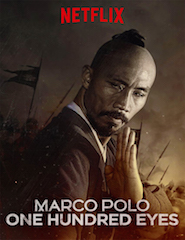 Marco Polo: One Hundred Eyes (Netflix) – While Marco Polo was one of the few Netflix originals that I wasn't crazy about, hands down, the best character from the show was One Hundred Eyes. This origin story is a standalone tale that gives some due time to our favorite character. If you liked the series– or just appreciated some of the cinematography and scenery (which is worth admiring)– then doubling down on a short but tragic tale should be worth your time.
[divider top="no"]
via The Film Avenger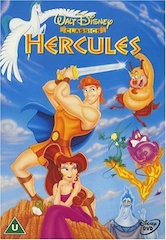 Hercules (Netflix) – Disney's animated feature from 1997 isn't one of the most revered in the studio's canon, but it is certainly worthy of respect. The film is beautiful in its design (which was modeled after ancient Grecian urns and other art) and the animation performances are some the best to ever come out of the Mouse House. James Woods is particularly hilarious as the villain Hades. But it's one of my favorite animated films not just for its artistry, but for its wit. Beneath the hilarious sight gags and clever puns is a biting satire about the sometimes absurd nature of pop culture and celebrity. With the current culture's obsession with fame, it's actually more relevant now than it was when the film came out.
[divider top="no"]