A new weekend, a fresh batch of brand new recommendations from our contributors. When you get tired of being outside, need a change of scenery, or are plain sick of people, hunker down on your computer, phone, or smart TV and enjoy these movies from the best streaming services. Happy movie watching weekend, everyone!
[divider top="no"]
via The Film Avenger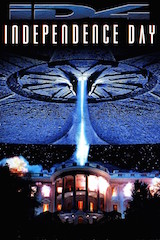 Independence Day (HBO Now) – With Resurgence on the horizon, it's time to revisit this twenty-year-old blockbuster extravaganza. An invading force of aliens destroys most of the cities on earth, and it's up to the remaining humans to stop them. This movie really started the modern "epic disaster" film trend. When this film blew up landmarks like The White House and the Empire State Building, it was genuinely shocking because it hadn't really been done before. The performances range from nuanced to schlocky, but that's okay. It's just a fun film with good guys that are good and bad guys that are bad, that takes itself serious enough to make the stakes real.
[divider top="no"]
via Griffin Kale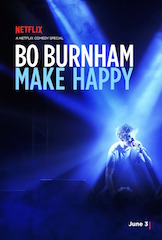 Bo Burnham: Make Happy (Netflix) – There is a tough line to walk when you are both a fan of comedy, and morally you don't agree with a certain humor. Bo Burnham doesn't walk this line well, and probably offends some, but his humor and ability are undeniable. One of the brightest young talents in the industry and his new special does a great job to buy into all of the current comedy tropes, such as racial, social, and cultural humor. But his special is also quite lighthearted and full of good childish humor, such as his rap retake on 'I'm A Little Teapot'. Give it a look, if you already enjoy stand-up. If you don't, there are better, and more approachable starting points than this.
That being said, Bo's commentary on the current culture of performance, in both the entertainment industry and our daily lives of social media, is worth watching this entire hour special for. Kneeling at the front of the stage, he speaks directly to the audience, encouraging them with this, "If you can live your life without an audience, you should do it."
[divider top="no"]
via Josh Crabb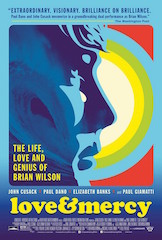 Love & Mercy (Amazon Prime) – This movie came in at #3 on my Top 10 of 2015. And why wouldn't I just rip this quick recommendation straight from our Top 20 Movies of 2015?
"For fans of the Beach Boys, it's a joyous celebration of their greatest album. For movie fans, it's a compassionate drama about a loving relationship and Brian Wilson's complicated and troubled inner life. Telling a tale from two periods of Wilson's life, it is exuberant, tormented, arduous, and tender. While Brian Wilson is the focus, the emotional core and spirit of the movie are Elizabeth Banks' Melinda, who exemplifies love and mercy to a broken, but hopeful Wilson. After a second emotional viewing, this movie skyrocketed into my Top 5." ~Josh Crabb
Every time I see Elizabeth Banks in a movie, I realize what an absolute treasure she is. Dano is also superb in a role where quiet is better. A big diversion from his normal role as the unhinged, spittle-mouthed antagonist. See this movie!