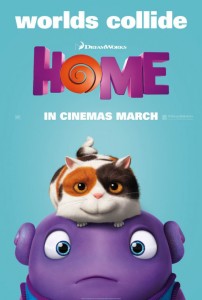 Boasting the same creators of How to Train Your Dragon and The Croods, both excellent movies that have received very different critical reactions. The former received the lauding of critics and is one of the most well-loved kids movies of the past ten years, while the latter was said to have bad animation as well as poor plotting (two criticisms I disagree with) and was not up to par with Dreamworks previous movies.
While Dreamworks is not putting out the same stellar efforts time and time again like Disney/Pixar, their body of work is nothing to shrug off. How to Train Your Dragon 2 was a great follow up to the 2010 original, they re-booted VeggieTales on Netflix this past year and it is not that bad at all, and their less than stellar outputs, like Mr. Peabody and Sherman, still had its moments and raked in a bunch of cash.
Home, the new feature from Dreamworks Animation, treads the familiar path of its predecessors with a main protagonist being a social outcast. Oh (Jim Parsons), an alien of the Boovian race named for the exasperated expression people make when he shows up, and his fellow Boovians, commanded by Captain Smek (Steve Martin)are on the run from the mysterious and hostile aliens, the Gorg. They flee to our home planet of Earth and proceed to colonize Earth after forcibly relocating all humans to new settlements using hasty research that sets up giant amusement parks and feeds them ice cream and pizza. The Boovians are left with the rest of the planet to themselves. However, their plan is foiled when Oh accidentally sends an E-vite to the Gorg to attend his party on Earth and he becomes wanted for his mistake. While on the run, he meets Tip (Rhianna), who has avoided being captured for relocation and is desperately searching for her mother, who was captured when the Boovians arrived. They make a tenuous pact to find Tip's mother and also keep Oh safe from capture. Along the way, they discover that their assumptions about each other might not be what it appears on the surface and there is much to learn about their motives and fears.
Fear is a major trait of the Boovians, but not as a flaw or defect, but a virtue. Captain Smek, the self-proclaimed inventor of running away, is hailed as a "Super-Boov" because o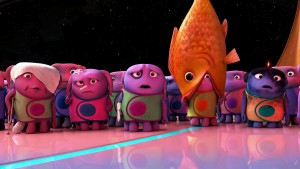 f his expertise in hightailing it out of any situation that appears to be dangerous or potentially negative. "If probability of success drops below 50 percent," says Oh to Tip at an important moment in the movie, "Boovs give up." The visual metaphor of the Boovian architecture shaped like bubbles conveys their isolated and drone-like uniformity. They all even look the same, with only small details distinguishing some of the main characters from the rest of their kind. Their fear for safety has led to a cold, loveless culture that puts a positive spin on taking over a planet and running in fear.
Like its predecessor, The Croods , there is a patriarchal figure in Smek who ascribes to this irrational fear that is tied to the seeming necessary survival of his family, in this case a whole alien race, and a catastrophic event forces one of their ilk, Oh (the embodiment of their race's fear), to embrace the opposite of the fear that permeates their people. And like The Croods, Home's answer to this fear is the very biblical answer of love, and more specifically, familial love. But unlike its prehistoric set ilk, it is not the more sophisticated and advanced people that provide a better way, but from the more technologically primitive humans of earth; and from a human child, no less.
"There is no fear in love. But perfect love drives out fear, because fear has to do with punishment. The one who fears is not made perfect in love." 1 John 4:18
Tip, short for Gratuity, has the singular purpose of finding her mother, who was taken like everyone else. Oh, like all of the Boov, does not understand this and can only spout the poor mathematics in their quest to find Lucy, Tip's mother. As Oh journeys with Tip, he discovers what love actually looks like and how the love we have for others is what gives up hope, as Tip explains to him, and that hope, flowing out of love, gives us the courage/endurance to continue on despite the poor odds/low probability of success. It echoes Paul's words to the Thessalonians:
"We remember before our God and Father your work produced by faith, your labor prompted by love, and your endurance inspired by hope in our Lord Jesus Christ." 1 Thessalonians 1:3
It is fitting I saw this movie leading into Holy Week. It reminds us of the love shown to us by God the Father through the death and resurrection of Jesus Christ, the source of our hope. When we look to Good Friday, we remember how Jesus was fearful and sweat blood while praying in the garden at the prospect of not just dying, but taking the full punishment for our sins. Though the odds looked incredibly bleak he endured the cross with joy, as the writer of Hebrews says, and lovingly went to the cross to give us hope and life. While the analogy is not perfect, Jesus obviously knew that the Father's plans would not fail, it is an apt reminder as we remember and hear the Good News afresh this week and celebrate God's goodness and love.