On this episode of the Reel World Theology Podcast: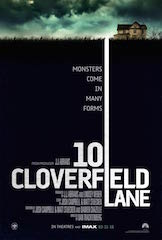 Out of nowhere comes what JJ Abrams calls "the spiritual successor" to the 2008 genre-defying film, Cloverfield. In 10 Cloverfield Lane, we get suspense, horror, mystery, thriller, action, sci-fi, and a little bit of the apocalypse. Of course this gives us a lot to talk about from first impressions, to Room comparisons, to Cloverfield comparisons, to what makes this film wholly unique and genre-defying itself.  This is one of those films that you definitely want to see before we spoil things, so get to it!
Download Episode 095 Here:
Reel World Theology #095 – 10 Cloverfield Lane and Living Beyond Regret
Reel World Theology on Stitcher
Reel World Theology on FeedBurner
This episode's panel included Josh Crabb and Wade Bearden.
Joshua Crabb (@HeyItsThatJosh)
RWT Contributor
13Past1 Blog
Wade Bearden (@WadeHance)
Wade Bearden on Facebook
WadeBearden.com
Seeing and Believing Podcast
Podcast Notes and Links:
10 Cloverfield Lane at IMDB
10 Cloverfield Lane at Rotten Tomatoes
10 Cloverfield Lane Review at Reel World Theology
10 Cloverfield Lane Review at Reel Spirituality
10 Cloverfield Lane Review at Reel-Gospel
The Monsters at 10 Cloverfield Lane at Christ and Pop Culture
10 Cloverfield Lane and Top 5 Single-Location Movies at Seeing and Believing
There are Monsters Everywhere in 10 Cloverfield Lane at Christianity Today
/Filmcast ep.361 10 Cloverfield Lane Deep Dive at Slash Film