On this episode of the Reel World Theology Podcast: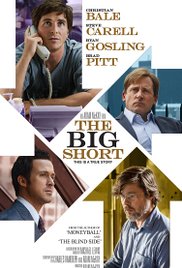 Hopefully you've had a chance to see The Big Short. The more we think about it, the more we love it. What a great oddball film that bounces around genres seamlessly and still managed to entertain and educate (see also. edutainment). The film had us chuckling throughout so much that it wasn't until the very end that we realized we should have been crying the entire time. Adam McKay does a marvelous job of letting us into the high-stakes world of investment banking and shows us that all the warning signs were there, but human greed and arrogance are things we'll never escape.
Download Episode 091 Here:
Reel World Theology #091 – The Big Short and the Art of Edutainment
Reel World Theology on Stitcher
Reel World Theology on FeedBurner
This episode's panel included Clay Morgan and Gene Gosewehr.
Clay Morgan (@ClayMorganPA)
NorvilleRogers.com
The Storymen Podcast
Gene Gosewehr (@WizrdofGOZ)
A Clear Lens Podcast
Podcast Notes and Links:
The Big Short at IMDB
The Big Short at Rotten Tomatoes
The Big Short Review at LeathGroup
The Big Short Review at Reel-Gospel
The Risky Moral Gambit of The Big Short at Christianity Today
The Untouchables at PBS Frontline
Inside the Meltdown at PBS Frontline