On this CHRISTMAS! episode of the Reel World Theology Podcast: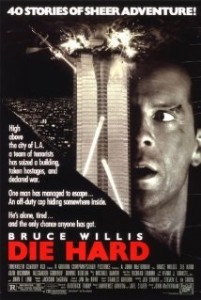 Merry Christmas from the gang here at Reel World Theology! As usual, we roll out a special Christmas episode highlighting one of our favorite Christmas films. This time, it is our legitimate favorite Christmas movie, Die Hard. While there is some debate about whether Die Hard is actually a Christmas movie, we dive into the debate and not only show why Die Hard deserves the category, but what it takes for any movie to make it. Not only that, but Die Hard was genre defining, filled with lots of thematic allusions, and is honestly a lot of fun! Yippie kayak other buckets!
Download Episode 084 Here:
Reel World Theology #084 – Die Hard and Christmas Movie Ingredients
Reel World Theology on Stitcher
Reel World Theology on FeedBurner
This episode's panel included JR Forasteros and Laura Fissel.
JR Forasteros (@jrforasteros)
JRForasteros.com
NorvilleRogers.com
The Storymen Podcast
Origami Elephants Podcast
Laura Fissel (@laura_fissel)
www.laurafissel.com
Who-ology
Podcast Notes and Links:
Die Hard at IMDB
Die Hard at Rotten Tomatoes
Why Die Hard is the Best Christmas Movie at NorvilleRogers