On this episode of the Reel World Theology Podcast: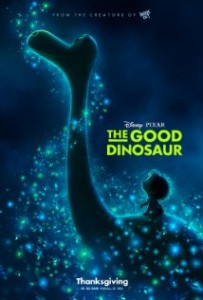 Audiences always seem to love a new PIXAR film. In fact, it has been since A Bug's Life that PIXAR has struggled to turn a healthy profit from any of their productions. Well, that is until now. The Good Dinosaur is in danger of doing just that– flopping! In a year that brought us one of the best PIXAR films to date, Inside Out, we get possibly the toughest-to-love to date. Although the photorealism of the scenery is undeniably some of the best animation that has ever been created, the story has not connected with audiences. We explore our reactions and why we think it hasn't been the hit the studio hoped.
Download Episode 083 Here:
Reel World Theology #083 – The Good Dinosaur and
Reel World Theology on Stitcher
Reel World Theology on FeedBurner
This episode's panel included Griffin Kale and Alexis Johnson.
Griffin Kale (@griffin_kale)
RWT Contributor
www.griffinkale.com
Alexis Johnson (@phoenicianrises)
Reel Cathedral
Podcast Notes and Links:
The Good Dinosaur at IMDB
The Good Dinosaur at Rotten Tomatoes
The Good Dinosaur at Reel World Theology
The Good Dinosaur at Reel-Gospel
The Good Dinosaur at Reel Spirituality
The Good Dinosaur at Christianity Today