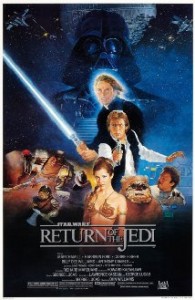 On this minisode:
The end is near! Our first ever minisode series comes to an end as do our currently released Star Wars films. Return of the Jedi capped the original trilogy with an incredibly satisfying ending while also making us wrestle with all types of themes. How did the film that had to follow Empire fair? Where would it fall in the cannon for you? for us? Does this film deserve some of the negativity it often spurs? Is it possible for a special edition to ruin an original? Join us as we finish our Star Wars minisodes!
Download minisode 006 Here:
Reel World Theology minisode #006 – Star Wars: Episode VI – Return of the Jedi
Reel World Theology on Stitcher
Reel World Theology on FeedBurner
This episode's panel included Ryan Kildoo and Josh Crabb.
Ryan Kildoo
Kildoo on Facebook
Joshua Crabb (@HeyItsThatJosh)
RWT Contributor
13Past1 Blog
Podcast Notes and Links:
[youtube url="https://youtu.be/7L8p7_SLzvU"]
Star Wars: Episode VI – Return of the Jedi at IMDB
Star Wars: Episode VI – Return of the Jedi  at Rotten Tomatoes