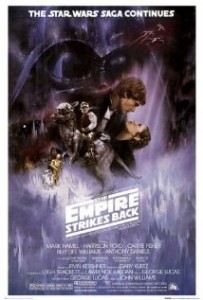 On this minisode:
Likely the episode everyone has been waiting for (though, if you skipped the prequels you may have missed some comedy gold). The Empire Strikes Back is a landmark film– a film other films will be compared to for all of cinematic history, similarly to Star Trek's Wrath of Kahn. How could this sequel outshine the original film that launched the entire franchise? What is it that people just love so much about this dark and unresolved tale?
Download minisode 005 Here:
Reel World Theology minisode #005 – Star Wars: Episode V – The Empire Strikes Back
Reel World Theology on Stitcher
Reel World Theology on FeedBurner
This episode's panel included Laura Fissel and Blaine Grimes.
Laura Fissel (@laura_fissel)
www.laurafissel.com
Who-ology
Blaine Grimes (@Dept_of_Tourism)
Reel Thinking
Podcast Notes and Links:
[youtube url="https://youtu.be/JNwNXF9Y6kY"]
Star Wars: Episode V – The Empire Strikes Back at IMDB
Star Wars: Episode V – The Empire Strikes Back at Rotten Tomatoes