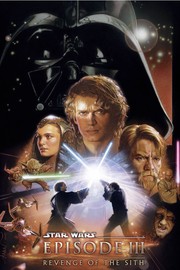 On this minisode:
We round out the prequel trilogy by talking about many people's favorite of the prequels, Revenge of the Sith. Anakin and Obiwan finally have their fated showdown and we decide whether the entire affair lives up to our hopes. In fact, we get to reminisce about what excited us about this film so many years ago. Do those feelings outweigh the critical disappointment this film ended up being? What is its place in history?
Download minisode 003 Here:
Reel World Theology minisode #003 – Star Wars: Episode III – Revenge of the Sith
Reel World Theology on Stitcher
Reel World Theology on FeedBurner
This episode's panel included JR Forasteros and Josh Crabb.
JR Forasteros (@jrforasteros)
JRForasteros.com
NorvilleRogers.com
The Storymen Podcast
Origami Elephants Podcast
Joshua Crabb (@HeyItsThatJosh)
RWT Contributor
13Past1 Blog
Podcast Notes and Links:
[youtube url="https://youtu.be/5UnjrG_N8hU"]
Star Wars: Episode III – Revenge of the Sith at IMDB
Star Wars: Episode III – Revenge of the Sith at Rotten Tomatoes