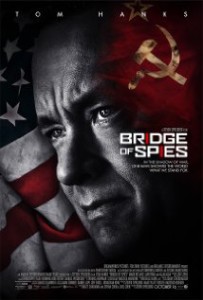 On this episode of the Reel World Theology Podcast:
It's that time again! Steven Spielberg has teamed up with Tom Hanks to bring us another historical drama. Both masters of their craft, it is always interesting to see if the final product delivers. While many critics seemed to enjoy the film overall, many also point out the two very different narratives found in this script from the Coen brothers. We try to tackle to time period in which we get to explore this one along with what we had hoped this movie had tried to do with its message.
Download Episode 079 Here:
Reel World Theology #079 – Bridge of Spies and Historical Allegories
Reel World Theology on Stitcher
Reel World Theology on FeedBurner
This weeks' panel included Clay Morgan and Blaine Grimes.
Clay Morgan (@ClayMorganPA)
NorvilleRogers.com
The Storymen Podcast
Blaine Grimes (@Dept_of_Tourism)
Reel Thinking
Podcast Notes and Links:
[youtube url="https://youtu.be/7JnC2LIJdR0″]
Bridge of Spies at IMDB
Bridge of Spies at Rotten Tomatoes
The Spy Who Came In From the Cold at IMDB
The Majestic at IMDB
Cold War: A New History at Amazon
Bridge of Spies Review at Reel World Theology
Bridge of Spies Review at Reel-Gospel
Bridge of Spies Review at Reel Spirituality
Bridge of Spies Review at Christianity Today