On this episode of the Reel World Theology Podcast: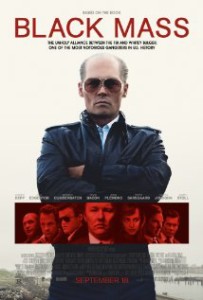 Black Mass, based on the book Black Mass: The True Story of an Unholy Alliance Between the FBI and the Irish Mob recounts the infamous life of James "Whitey" Bulger. The film sports an incredible cast and has drawn much buzz as a "return to form" for it's lead, Johnny Depp. While we feel we're treated to quite the performance by Depp, was that enough for this biopic to really get at the heart of Bulger more than previous takes on the story? We take a look at the difference in a series of events and telling an interesting story as well as comparing our goodness to that of others. We hope you enjoy it!
Download Episode 074 Here:
Reel World Theology #074 – Black Mass and Relative Goodness
Reel World Theology on Stitcher
Reel World Theology on FeedBurner
This week's panel included Tyler Smith and Josh Crabb.
Tyler Smith (@morelessons)
More Than One Lesson
Battleship Pretension
Joshua Crabb (@HeyItsThatJosh)
RWT Contributor
13Past1 Blog
Podcast Notes and Links:
[youtube url="https://youtu.be/YJWJeBJnT6M"]
Black Mass at IMDB
Black Mass at Rotten Tomatoes
Black Mass Review at Reel World Theology
Black Mass Review at ZekeFilm
Black Mass Review at Christianity Today