On this episode of the Reel World Theology Podcast: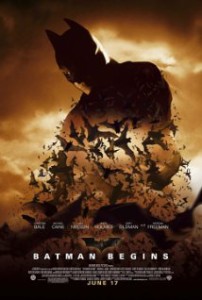 It's one of those magic times during the year when our schedule opens up and we get to take a look at films past. I have been wanting to have a conversation about Batman Begins since I first saw it. Over the past decade, Batman has become one of the most popular comic heroes in the world. A lot of that is in part to his intrinsically tormented storyline, his over-the-top adversaries, his lack of super powers, and, of course, Christopher Nolan's Dark Knight Trilogy. I gather some huge comic book fans– one of whom may be the biggest Batman fan of all time– to join me in discussing why Batman is so well-loved and why Batman Begins is a cinematic milestone. Enjoy!
Download Episode 072 Here:
Reel World Theology #072 – Batman Begins and Being Ruled By Fear
Reel World Theology on Stitcher
Reel World Theology on FeedBurner
This week's panel included JR Forasteros and Rick Lee James.
JR Forasteros (@jrforasteros)
JRForasteros.com
NorvilleRogers.com
The Storymen Podcast
Origami Elephants Podcast
Rick Lee James (@RickLeeJames)
www.RickLeeJames.com
Writing:
www.amazon.com/Author/RickLeeJames
Music:
"Basement Psalms LIVE", the concert, is on Amazon Instant Video
Podcast:
Voices In My Head Podcast
Podcast Notes and Links:
[youtube url="https://youtu.be/neY2xVmOfUM"]
Batman Begins on IMDB
Batman Begins on Rotten Tomatoes
Dark Knight Trilogy Review, Part 1 at JRForasteros.com
Batman Begins Review at Christianity Today
The Adoption Connection in Batman Begins at Reel Spirituality