On this episode of the Reel World Theology Podcast: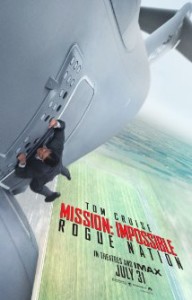 Ethan Hunt is back and more implausible than ever before! This time we get to focus on teamwork and a new mystery lady who has been described as one part Bond girl and one part Bond Villain. Rogue Nation certainly gives us our share of excitement and death-defying stunts but is there any plot to hold it together? We ask if it even matter and also if sometimes we can just be in awe that stunt work is an incredible human feat. We also get to chat about why audiences seem to love authenticity and how that plays out on a larger scale. This podcast will self-destruct in five seconds…
Download Episode 069 Here:
Reel World Theology #069 – Rogue Nation and Authentic Action
Reel World Theology on Stitcher
This week's panel included Sam Robinson and Mark Wingerter.
Sam Robinson (@samsquareeyes)
Reel-Gospel (@reelgospel)
Sydney's Hope 103.2 Sunday breakfast (6am-12pm AEST)
Mark Wingerter (@markwingdinger)
Writing:
Re-View Series
Podcast Notes and Links:
[youtube url="https://youtu.be/gOW_azQbOjw"]
Mission Impossible (Original TV Series) on Wikipedia
Mission Impossible: Rogue Nation on IMDB
Mission Impossible: Rogue Nation on Rotten Tomatoes
Mission Impossible: Rogue Nation Review at Reel-Gospel
Mission Impossible: Rogue Nation Review at Reel Spirituality
Mission Impossible: Rogue Nation Review at Christianity Today