On this episode of the Reel World Theology Podcast: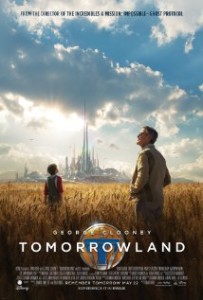 Another highly anticipated Summer movie that was hard pressed to follow up Fury Road. Even though we admit that it isn't the movie to see of the Summer, Tomorrowland gives us plenty to think and talk about. Brad Bird delivers a polarizing film, which is rare, but interesting. More critics are seeing escapism and separation of people who seem to be special than ever before– though we debate what the end goal is. Tomorrowland fuels great debate and makes us examine how we use our own gifts and talents.
Download Episode 063 Here:
Reel World Theology #063 – Tomorrowland and the New Earth
Reel World Theology on Stitcher
This weeks panel included Joel Mayward and Blaine Grimes.
Joel Mayward (@JoelMayward)
www.JoelMayward.com
Pre-Order Jesus Goes to the Movies: The Youth Ministry Film Guide
Blaine Grimes (@Dept_of_Tourism)
Reel Thinking
Podcast Notes and Links:
[youtube url="https://youtu.be/lNzukD8pS_s"]
Tomorrowland at IMDB
Tomorrowland at Rotten Tomatoes
Tomorrowland: Hope in the Future? at Reel World Theology
Tomorrowland Review at Joel Mayward Blog
A Brief Defense of Tomorrowland at Reel Thinking
Tomorrowland: Feeding the Right Wolf at Let There Be Movies
Tomorrowland Review at Reel Spirituality
Tomorrowland Review at Reel Gospel
Everything you Need to Know About Tomorrowland at Disney