On this episode of the Reel World Theology Podcast: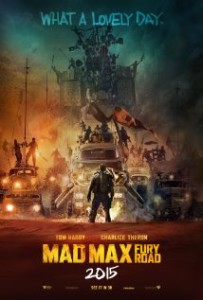 One of our most anticipated movies of the Summer may have just become one of the best movies of the year. With levels of hype that seemed unachievable, Fury Road surpassed expectations and has become an incredible success. The film manages to not only be cinematically impressive, but has pleased audiences and critics while delivering a surprising amount of depth. Hard to imagine in modern day filmmaking, George Miller, using very little dialogue, tackles themes of equality, value, and societal direction. It all adds up to more than we could hope to talk about in one episode.
Download Episode 062 Here:
Reel World Theology #062 – Mad Max: Fury Road and Cinematic Milestones
Reel World Theology on Stitcher
This weeks panel included Laura Fissel, Mark Wingerter, and Blaine Grimes.
Laura Fissel (@laura_fissel)
www.LauraFissel.com
Mark Wingerter (@markwingdinger)
Writing:
Re-View Series
Blaine Grimes (@Dept_of_Tourism)
Reel Thinking
Podcast Notes and Links:
[youtube url="https://youtu.be/hEJnMQG9ev8″]
Mad Max: Fury Road on IMDB
Mad Max: Fury Road on Rotten Tomatoes
Mad Max on Wikipedia
Mad Max: Fury Road Review at Reel World Theology
Why Mad Max: Fury Road will be the Movie of the Summer at Norville Rogers
How Mad Max: Fury Road Became a Feminist Action Film at Time
Mad Max's Apocalyptic World Tells Us Where We Think We'll Find Salvation at The Washington Post
7 Ways Mad Max: Fury Road Sublimely Subverts Movie Sexism at HitFix
The Heroic Masculinity of Mad Max: Fury Road at Slash Film
We Are Not Things: Why Mad Max: Fury Road is More Than Just A Great Action Movie at Christ and Pop Culture
Holding Onto Hope In Mad Max: Fury Road  at Think Christian
We Are Not Things – Mad Max: Fury Road at Reel Reflections
We Are Not Things: Women As Depicted In Mad Max: Fury Road & Transformers at Movie Mezzanine