On this episode of the Reel World Theology Podcast: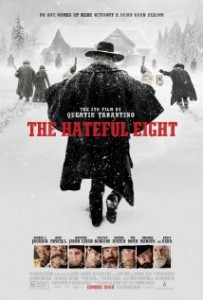 A story so bloody that we had to stop and think, "Can this type of story really start a worthwhile conversation?" Then we remembered it was written by Quentin Tarantino and knew that there was more than meets the eye. Again, Tarantino brings us a fairly unique tale of a group of pioneers, outlaws, and brigands who cross paths and tell each other the grandest, and sometimes unbelievable, tales. Through these stories we learn a lot about how people see the world and understand their place in it. How can this teach us how we should examine our own stories?
Download Episode 087 Here:
Reel World Theology #087 – The Hateful Eight and The Stories We Tell
Reel World Theology on Stitcher
Reel World Theology on FeedBurner
This episode's panel included JR Forasteros and Elijah Davidson.
JR Forasteros (@jrforasteros)
JRForasteros.com
NorvilleRogers.com
The Storymen Podcast
Origami Elephants Podcast
Elijah Davidson (@elijahdavidson)
Reel Spirituality (@ReelTweets)
Podcast Notes and Links:
The Hateful Eight at IMDB
The Hateful Eight at Rotten Tomatoes
The Hateful Eight Review at Reel World Theology
The Hateful Eight Review at Reel Spirituality
The Hateful Eight Review: Alternate Take at Reel Spirituality
The Hateful Eight Review at 1 More Film Blog
The Hateful Eight: When You Go Looking For Trouble at ScreenFish
Tarantino's Incarnational Aesthetic at Christianity Today
Not Replacing a Single Word in Post-Production w/ Mark Ulano:
https://youtu.be/6_UI1GzaWv0