On this episode of the Reel World Theology Podcast: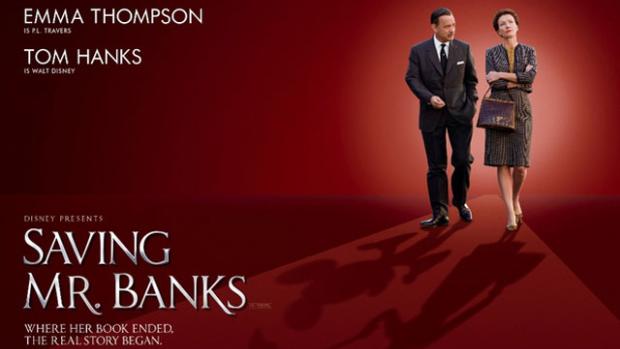 We chat about Saving Mr.Banks, a movie about making a movie— and not just about the making of any movie, but one of the most beloved musicals of all time, Mary Poppins. This telling of the story behind the story is heart-warming at times, and also, heart-breaking. While there has been some discussion as to the accuracy of the portrayal of how this story played out in real life vs the film, it is still a remarkable and touching story.
Saving Mr.Banks is a film starring Tom Hanks as Walt Disney and Emma Thompson as writer, and Mary Poppins creater, PL Travers. The main narrative involves Walt Disney trying to persuade Travers to allow him to adapt her beloved children's character into a film with Travers resisting— until she runs into monetary problems and has to reconsider his 20 year standing offer. She travels to southern California where confrontations ensue because of creative differences between the studio team and Travers all while Travers, herself, is reflecting on her difficult childhood. Art, the value of story, the personalness of story, fact vs fiction, family, and the redemptive power of story, all on the table in this episode!
**This Episode of the Podcast was part of the Christian Podcasting Crossover for January 2014. Be sure to check out the show notes for links to all the podcasts and podcasters that are involved in this great event!** 
Download Episode 017 Here:
Reel World Theology #017 – Redemption and Mr.Banks
This weeks' panel included Mark Wingerter and Jason Rennie.
Mark Wingerter (@markdapackerfan)
Short Films:
Transmission & Dead on Arrival can be found at this YouTube Channel
http://www.youtube.com/user/MrKlay
Entries for the 48 Film Project, including Heart of the Dead, can be found here:
Greensboro 48 Hour Film Project
Music:
Falls
I, Anomaly
Podcasts:
Let Pylons Be Pylons 
Jason Rennie (@thesciphishow)
The Sci-Phi Show (on Facebook)
Christian Meets World (on Facebook)
Podcast Notes and Links:
Saving Mr. Banks on IMDB
Saving Mr. Banks on Rotten Tomatoes
Saving Mr. Banks Re-lives Pain of Mary Poppins at SFGate
Saving Mr. Banks Review at Patheos
Crossover Links:
Geekually Yoked
The Sci-Phi Show
The Untold Podcast
The Sci-Fi Christian
Reel World Theology
The Storymen
Geek This! Podcast
Voices in My Head
Are You Just Watching?
Strangers and Aliens