On this episode of Reel World: Rewind…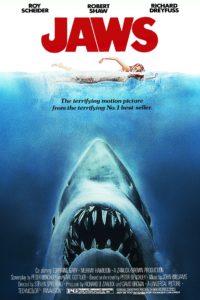 Closing out the summer on a high note, Reel World staffer Josh Crabb invites on his old podcast pal, Blaine Grimes, to discuss a movie that holds incredible significance for Blaine, Steven Spielberg's Jaws. They talk about how the movie remains significant almost 45 years later, what it can teach modern filmmakers and audiences, and concludes with a very personal reflection by Blaine. This is a "do-not-miss" episode of Rewind.
Download Episode #040 here:
Reel World: Rewind #040 – Jaws
Reel World Theology on Stitcher
Reel World Theology on FeedBurner
Reel World Theology on Google Play

Podcast Notes and Links:
Like Reel World Theology on Facebook
Join our Reel World Theology Discussion Group on Facebook
Jaws on IMDB and Rotten Tomatoes
[youtube url="https://www.youtube.com/watch?v=NpDf3wTxdiY"]
Music: "Dirt Rhodes" by Kevin MacLeod. Used under Creative Commons license 3.0.