On this episode of Reel World: Rewind…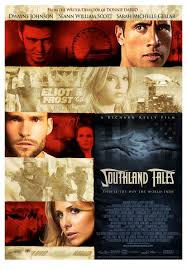 Once again, Blake strikes with a challenging and heady movie. Richard Kelly's widely criticized second feature film Southland Tales suffered similar marketing obstacles to his first feature film, the classic film Donnie Darko. Consequentially, his second film has largely been forgotten. Blake Collier and Josh Crabb untangle this serpentine narrative to discuss Kelly's righteous anger, his sharp satirical takedown of LA and popular culture, and how the apocalypse is a bi-partisan initiative.
Download Episode #036 here:
Reel World: Rewind #036 – Southland Tales
Reel World Theology on Stitcher
Reel World Theology on FeedBurner
Reel World Theology on Google Play

Podcast Notes and Links:
Like Reel World Theology on Facebook
Join our Reel World Theology Discussion Group on Facebook
Beetlejuice on IMDB and Rotten Tomatoes
[youtube url="https://www.youtube.com/watch?v=vtp14ikRvxo"]
Music: "Dirt Rhodes" by Kevin MacLeod. Used under Creative Commons license 3.0.