On this episode of Reel World: Rewind…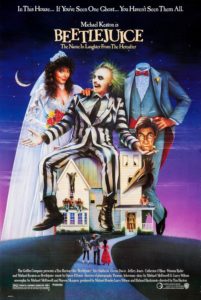 It's showtime! With the release of Tim Burton's Disney's live-action Dumbo, it seemed very appropriate to return to Tim Burton and actor Michael Keaton's first collaboration, 1988's Beetlejuice. Co-host Josh Crabb is joined by Reel World staff member Mark Wingerter to dive real deep into the first movie where Tim Burton's aesthetic and vision was allowed to fully bloom. Putting aside Keaton's performance taking the movie to another level, Josh and Mark discuss how this family movie models a biblical view of death and the afterlife, battles the shallow view of shedding the past, and delights in Burton's whimsical grotesquerie of images.
Download Episode #035 here:
Reel World: Rewind #035 – Beetlejuice
Reel World Theology on Stitcher
Reel World Theology on FeedBurner
Reel World Theology on Google Play

Podcast Notes and Links:
Like Reel World Theology on Facebook
Join our Reel World Theology Discussion Group on Facebook
Beetlejuice on IMDB and Rotten Tomatoes
Music: "Dirt Rhodes" by Kevin MacLeod. Used under Creative Commons license 3.0.