On this episode of Reel World: Rewind…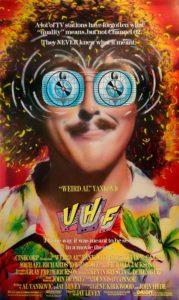 We've got it all on this episode as we sit down to talk about UHF! Of all the career accomplishments of the legendary comedic musician Weird Al Yankovic, his 1988 feature-length movie may be one of his more obscure and was a major box office flop. However, thanks to the VHS-generation of movie-lovers, the movie found new life beyond the theaters and became a cult classic. Regardless of the prodigious comedic legend behind this movie, it remains a weird, acquired taste of a movie.
Consider it a huge "SUPPLIES!" that this episode features not one, but two special guests to talk about the show. Reel World staffer Josh Crabb is joined by Feelin' Film's Jeremy Calcara and Reel Perspective Podcast's MJ Smith! These three UHF-heads (is that a thing?) reflect on what makes UHF so funny and why it remains funny, plus what makes Weird Al Yankovic and enduring comedic figure and not a relic of previous generations. Of course, most of the episode is spent trying to keep it on track and not turn into a quote fest, but ultimately it fails miserably. So, grab your twinkie wiener sandwiches, certified Keto-friendly, and enjoy this episode of Rewind!
Download Episode #030 here:
Reel World: Rewind #030 – UHF
Reel World Theology on Stitcher
Reel World Theology on FeedBurner
Reel World Theology on Google Play

Podcast Notes and Links:
Like Reel World Theology on Facebook
Join our Reel World Theology Discussion Group on Facebook
UHF on IMDB and Rotten Tomatoes
[youtube url="https://www.youtube.com/watch?v=Sq-Xl7A23-w"]
Music: "Dirt Rhodes" by Kevin MacLeod. Used under Creative Commons license 3.0.