On this episode of the Reel World Theology Podcast: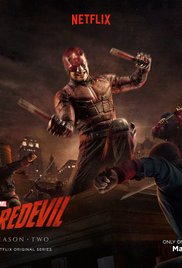 You voted and we obliged! With our listeners pick of topic for Episode #099 we dive back into Hell's Kitchen with Daredevil season two. We also get the gang back together with JR and Griffin who killed it (or did they decide we weren't going to kill?) on our Season One Episode. This time around we get to explore new characters in The Punisher and Elektra while also trying to remember how many ninjas gave their life in the making of this season. Did season two live up to expectations? How much does it take for Matt Murdock to convince himself he's still a 'good guy'? All this and so much more in this excellent edition of the podcast!
Download Episode 099 Here:
Reel World Theology #099 – Daredevil S02 and Holy Spirit Ninja Grace
Reel World Theology on Stitcher
Reel World Theology on FeedBurner
This episode's panel included JR Forasteros and Griffin Kale.
JR Forasteros (@jrforasteros)
JRForasteros.com
NorvilleRogers.com
The Storymen Podcast
Origami Elephants Podcast
Griffin Kale (@griffin_kale)
RWT Contributor
www.griffinkale.com
Podcast Notes and Links:
Marvel's Daredevil at IMDB
Marvel's Daredevil at Rotten Tomatoes
Daredevil vs Punisher (Comics)
The Paradox of Daredevil at The Atlantic
Daredevil Season 2 Podcast at Popcorn Theology
https://youtu.be/m5_A0Wx0jU4