Happy Boxing Day everyone!  The day after Christmas is recognized in Canada and the UK as a day for those who worked as postmen, errand-boys, etc. would receive a "Christmas Box" from their employers.  This year, since it falls on a Friday, many of you in the US will have the day off.  If you do and you're looking for a movie, take the following suggestion of The Double.
The Double, based on the Dostoevsky novella of the same name, follows Simon James (Jesse Eisenberg), a timid, unassuming, and limp-wristed office drone, and his humdrum, uneventful life in a fictional, industrial city working a cubicle job.  He is under-appreciated and unremarkable, and one of his co-workers even quips he is a tad forgettable.  Despite having worked their for seven years and stumping to have his workplace initiatives recognized, no one can seem to remember who he is, not even the bored and contentious security man he sees every day, yet still makes him fill out a guest pass every morning.  What he desires more than to be notice is to gain the attention of Hannah (Mia Wasikowska), a fellow co-worker who lives in the building across from him, yet is a loner and a bit like Simon.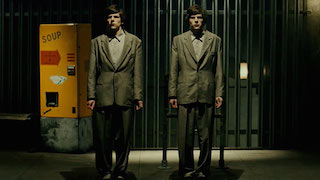 Things take a bizarre and harrowing turn for Simon when a new colleague, James Simon, starts at his office.  He is everything that Simon is not.  James is charismatic, memorable, charming, and imbued with confidence to spare.  The bizarre and major issue with this new co-worker is that James is Simon's exact lookalike.  When no one else in the office seems to notice Simon's doppelganger, he takes it upon himself to confront James with this strange set of circumstances.  When the two begin to spend time together they develop a rapport that has Simon doing James' work and James helping Simon to woo Hannah and build his confidence.  However,when things begin to go sour and James is the star of the office with Simon's boss, Mr. Papadopoulos, (Wallace Shawn) and attracts the admiration of Hannah and Mr. Papadopoulos' daughter, Simon has to scramble to save his reputation, his relationships, his job, and his identity.
The Double was an unexpected movie I really enjoyed.  It was only available in limited release around May of 2014 and quickly came and went without much attention.  Director Richard Ayoade and cinematographer Erik Wilson are able to build tension and emotion through incredibly dark and interesting camera work.  Eisenberg works his scene well within the emotional framework of the movie and the dialogue and acting are sharp, witty, and comedically offbeat.  James is fast-talking, Simon is timid and unsure, and Eisenberg is at his best playing two completely different people inhabiting the same body.  The interplay of the same person playing two different characters reminds me of the similar well-acted roles of Ethan and Sophie in The One I Love.
Although the movie is much more narrative and dialogue driven, honing in on the strange and offbeat interaction of Simon and James, the story asks questions of identity, isolation, and finding meaning and value.  Simon struggles to take initiative and in a dialogue with James he expresses how we feels like he lacks control of his life, his destiny is controlled by others, and that his personality leaves him invisible to virtually everyone.  This struggle for meaning and hopelessness he feels is a common feeling that our culture wrestles with.  In an increasingly technological and media-driven world, we ask ourselves, "Can we really be known?"  Despite the many pieces of electronics and media platforms that can facilitate our identity, ultimately we, like James, aren't really sure if the person we are, or project to others is who we want to be.  What is our identity, what makes us who we are, and could the longing to change be realized?  If only we were more confident, more savvy, less this, less that, then we would have our paper published, date the right person, or have the best life.  To ask and wrestle with those questions in such a wonderfully well made package is why the Double is my recommendation for your Holiday weekend.  Happy movie viewing, everyone!
THE DOUBLE (2014)
Directed by Richard Ayoade
Starring Jesse Eisenberg, Mia Wasikowska, and Wallace Shawn
Rated R for language
---
Netflix Your Weekend is Reel World Theology's weekly pick for a movie currently available on Netflix Instant that will not only entertain but make you think and engage the story you are watching.  If you have a suggestion for a Netflix Instant movie, email Josh at J.A.Crabb22@gmail.com with the subject line "Netflix Your Weekend".  Joshua Crabb (@HeyItsThatJosh) is an editor, writer, and reviewer for Reel World Theology.  He could not heed the advice of his elementary playground mates and "marry them" because he loves movies so much.  Instead, he is married to Tina and has four really awesome children.