After another big weekend of new movies, we've got ANOTHER big week and it is pretty incredible. Two iconic directors have new movies as does an iconic kids franchise. Don't forget the limited releases, either, which both boast incredible lead actresses and good early buzz. Check out all the new movies this week and make sure to let is know what you are excited to see!
[divider top="no"]
Opening In Wide Release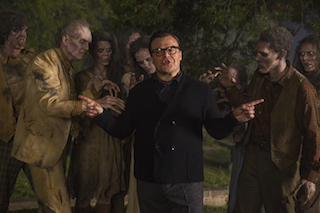 Remember all those great R.L. Stine books you read as a kid? It was my early years introduction to ghosts, mummies, clowns, and all the other scary stuff that kept you up at night. However, Goosebumps books always had that magic quality to build up the wonder and imagination of monsters, but not leave you with the sheer terror that comes with watching It or The Exorcist. I'm sure if I read those books today I would be amused rather than scared. That being said, I look on those books with fondness and with narrow-eyed skepticism at the release of a movie based on the book franchise.
The only thing that widens the narrowed eyes and gives pause to my skepticism is the ever delightful Jack Black. He's proven to have range, and a revisit of High Fidelity has brought a bit of a rediscovering to how funny and charming Black can be. However, I often find him intolerable when used as a lead actor and not in a supporting role. Considering R.L. Stine, who he plays in the movie, is anything but a wild, over-the-top personality, I am hoping to get a more reserved, Bernie-like performance from Black. While  early reviews are never a strong indication of where a movie is headed, this one is middling right now but could go generally positive on the strength of super cool monsters and a premise centering around books. Go figure, a movie telling kids to read books! There's a concept.
[divider top="no"]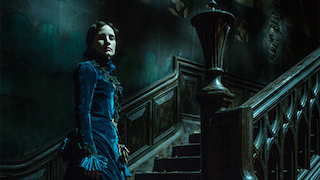 This was one of Fizz's most anticipated movies of the fall movie season, so I will let him do the talking once again:
I feel like, based on his track record, people should be lining up to see this film simply because Guillermo del Toro's name is on it. Most of his films are freaky or imaginative enough as is (Pan's Labyrinth, Hellboy, Blade II, Pacific Rim), but giving him the reigns on a horror film coming out right before Halloween seems too perfect. The trailer transports us into a living house full of color and spectacle. Honestly, the few glimpses of the horrors  we will be in store for are probably enough to give people goosebumps. Throw in fan-favorite Tom Hiddleston and Jessica Chastain and, well, you're going to have a tough time convincing people not to see this one.
[divider top="no"]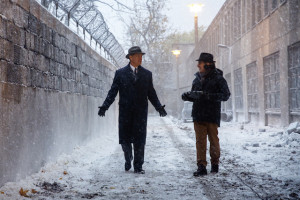 Whenever Tom Hanks and Steven Spielberg team up, good things happen. Producing Band of Brothers and the director/actor pair in movies like Saving Private Ryan, Catch Me If You Can, and The Terminal. Now, they are back together again working on the brand new spy thriller centered around the events of the U-2 spy plane crash in May 1960. Hanks plays a lawyer negotiating the safe return of the pilot from the Russians.
I'm still so excited for this one! Make sure to see this and let us know what you thought. Early buzz is getting great audience reviews and very positive critical reviews! Even IndieWire has weighed in and said Spielberg has crafted something akin to Lincoln but feels like a movie from a bygone age; and it's a good thing!
[divider top="no"]
Opening In Limited Release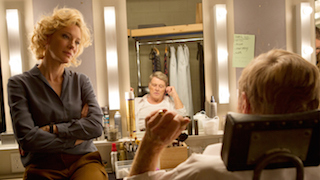 This movie, if it is any good, is sure to raise political ire and a firestorm. And I don't mean the Howie Long kind of firestorm. I'm talking the real Facebook stirring, polarizing kind of firestorm.
The movie centers around the extremely controversial CBS '60 Minutes' report done in 2004 on then President George W. Bush's military service. At the center of the sources and report was producer Mary Mapes, played by Cate Blanchett, and Dan Rather, played by the legendary actor Robert Redford. The movie also stars Topher Grace and Elisabeth Moss as additional reporters and fact finders on the story. It was controversial when it first broke and was even more so when major questions arose over the sources and authenticity of the documents obtained. It eventually cost both Mapes and Rather their jobs.
This could be a potentially controversial movie if it does well. Initial critical and audience responses are mixed, with some focusing on the quality performances of Blanchett and Redford, while others have been saying the movie is extremely biased and assumes the fidelity of Mapes' story; the central focus and based on her book about the report. WE'll have to wait and see, but it could be an under-the-radar movie worth checking out if it is in your area.
[divider top="no"]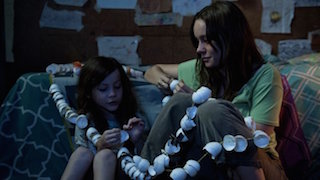 Another limited release based on a book, it stars Brie Larson (Short Term 12, Trainwreck) and Jacob Tremblay as mother and son trapped in a small room for 5+ years. The book is inspired by real-life events of a woman in Austria held captive for 24 years by her father, who abused her, raped her, and fathered 7 children. The book itself was critically lauded and the movie is likewise beginning to receive similar accolades. The most praise has been for Larson's performance as "Ma" or Joy. This shouldn't come as a surprise to anyone who has been following Larson's career. She has consistently gotten better with each film and here's to hoping she gets a lot of recognition for this role, if the movie stands up critically. Young Jacob Tremblay, age 9 now but 7 at the time of filming, has also been receiving a lot of praise. Overall, this movie has been quietly rolling out after debuting at the Telluride Film Festival and I'm excited to see it when it releases wide on November 6th. If you can, make sure to check it out this weekend!