If you're like us, then you are getting as excited as we are that September is almost over and pretty soon the highly anticipated movies of 2015 will be rolling out. And despite the growing excitement, there is still a big slate of movies out this weekend that seems like a week early primer for October. Check them out and let us know what you are excited to see!
[divider top="no"]
Opening In Wide Release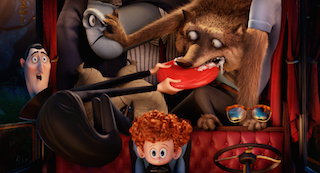 This may be the best thing Adam Sandler is in, this year. He joins up with the familiar cast of the OK first installment of Hotel Transylvania to continue the fun in this movie. Kevin James, Andy Samberg, Fran Drescher, Selena Gomez, Steve Buscemi, and Molly Shannon are all back in this movie as various Halloween monsters. This time, however, Dracula's daughter Mavis has a half-human, half-vampire son that is Dracula's grandson. They try to prove that his son, Dennis, is a monster by putting him through a "monster-in-training" boot camp. One of the surprising parts of the trailer is hearing Mel Brooks voicing Dracula's father, Vlad. That is one of the major draws for yours truly.
Mainly, the draw of both of these movies has been Genndy Tartakovsky's direction of both movies. He is the genius behind Jack the Samurai, the short-lived Star Wars: Clone Wars hand drawn animated show, and one of my favorite cartoon shows goring up, Dexter's Laboratory. He has a great knack for comedic timing and seems to have computer animation direction down, as well. I probably won't see it this weekend, but I plan on sinking my teeth into this movie soon (you're welcome).
[divider top="no"]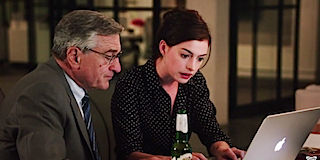 My wife and I were watching Project Runway together (back off, I like that show) and a commercial for The Intern came on. After it was done, my wife said rather casually to no one, "Ooo, I want to see that movie." Being too engrossed in my pita chips and hummus, I logged the comment away. Later, as I was working on this preview, I realized that this movie ticks off a lot of boxes for female movie goers. Anne Hathaway, check. Sweet, technology adverse old guy, check (for some reason). Possible romantic interest and montage of shopping, check. I expect this movie to do reasonably well. And fellas, take your lady-type to this movie, if they are a fan of these kind of movies, and you're sure to score more points than if you took them to the next movie on this preview.
[divider top="no"]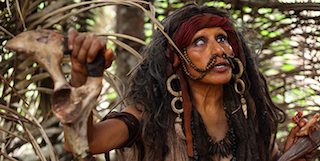 Nope. Not doing it. I can't even stomach the trailer for this Eli Roth directed movie. A successor to many grindhouse movies and the very repulsive Cannibal Holocaust, this movie is about a group of well-meaning young adults going on a trip into Amazon to save the rainforest who meet a cannibalistic tribe.
Over a year ago, I heard Eli Roth on Doug Benson' podcast, Doug Loves Movies, talk about the production of this movie and some of the influences behind it. Essentially, Roth has always been a huge fan of grindhouse movies and has also worked with Tarantino and Robert Rodriguez, both of whom contributed short films to the 2007 tribute to grindhouse films, Grindhouse. This movie is a high production, well connected B-movie that will certainly border on a cannibal exploitation film. However, you will not find me within a mile of this one. I may be coming around to horror, but gruesome horror is not something I do.
[divider top="no"]
Opening In Limited Release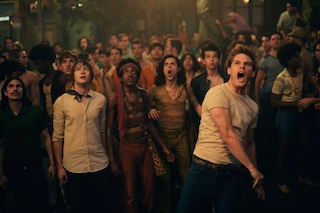 Remember Roland Emmerich? The 90's Michael Bay? Well, he continues to make movies despite having made some real stinkers in the past decade or so. 2012, 10,000 BC, White House Down, etc. Well, he's produced and directed this smaller budget movie before moving on to directing two, new Independence Day movies *groan* and it is not doing well out of the gate.
The movie is both a coming-of-age story and a political awakening for young Danny Winters (Jeremy Irvine) during the days of the Stonewall Riots. If you are unfamiliar with the Stonewall Riots and had to look them up on Wikipedia like I did, then I will save you the trouble. Those riots took place in 1969 by the New York gay community in response to police raids at the Stonewall Inn in Greenwich Village, Manhattan. It is considered a milestone event in the gay rights movement and the beginning of efforts towards equality. A very interesting topic for Emmerich to explore, but according to early reviews, he does a terrible job. Why do I mention the movie here, then? Caveat spectator, fine readers.
[divider top="no"]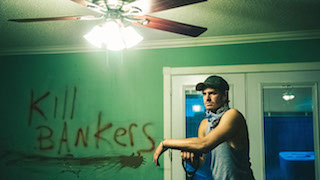 So this might be the best and most interesting movie of the bunch coming out this weekend. It stars Andrew Garfield, Michael Shannon, and Laura Dern, a spectacular first three, and is also directed by Ramin Bahrani, a personal friend of Roger Ebert and director of the great smaller films, Goodbye Solo and Man Push Cart. Garfield is a father who's family gets evicted form their house by corrupt a real estate broker played by Michael Shannon. In order to get his house back, he starts working for the very person who stood by and evicted him from his home, only to be caught up in the crooked schemes of his new boss. It sounds and looks incredibly thrilling! Who knew banking and real estate could be potentially exciting!