On this episode of Reel World: Rewind . . .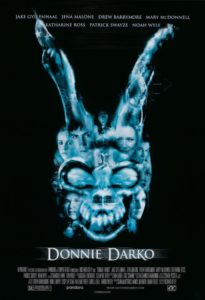 Blaine and Shannon are joined by Joe Nooft to talk about Richard Kelly's Donnie Darko (2001). They talk about their first experiences with the film, its allusions to 80s cinema, and possible interpretations of the film's events. Be sure to share your thoughts by sounding off in the comments below and by continuing the conversation in our Reel World Theology Facebook group. Find Joe Nooft on Twitter.
Download Episode #019 Here:
Reel World: Rewind #019 – Donnie Darko
Reel World Theology on Stitcher
Reel World Theology on FeedBurner
Reel World Theology on Google Play
Podcast Notes and Links:
Like Reel World Theology on Facebook
Join our Reel World Theology Discussion Group on Facebook
Donnie Darko  on IMDB and Rotten Tomatoes
Music: "Dirt Rhodes" by Kevin MacLeod. Used under Creative Commons license 3.0.