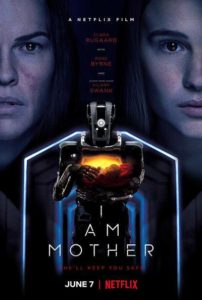 I read an article talking about how I Am Mother is really about robots taking over the world. But what if it portrays much more than that?
Human-kind has been wiped out. It no longer exists. A robot wakes up. She is known as Mother (voiced by Rose Byrne and mobilized by Luke Hawker). Taken out as a frozen human embryo and reanimated, Daughter (Clara Rugaard) is born. Mother raises her into a teenager. During the intervening years, Daughter learns various skills, including math and sciences, medical skills, as well as culture through old episodes of the Tonight Show with Johnny Carson. A Woman arrives on the periphery of the huge bunker. She's been attacked by sinister robots and is looking for a place to get help. Daughter sees her outside and tries to help. Mother informs her that this human will bring death by disease. The film seems fascinated with the concept of trust.
Daughter undergoes a crisis when Woman enters her sheltered world. Mother raised Daughter to believe that the outside world is infested with dangerous diseases that wiped out the human race. She taught her to believe that outside was dangerous. Yet Woman shows up–a real human–still alive. Woman explains to Daughter that she is not infected with any sort of deadly disease. Daughter feels compelled to help her escape whatever hunts her. Daughter brings Woman into the shelter. The alarms blaze and alert Mother, who comes running into the scene. Mother is hell-bent on preventing Daughter from allowing Woman into the shelter. Suddenly, Mother becomes the villain.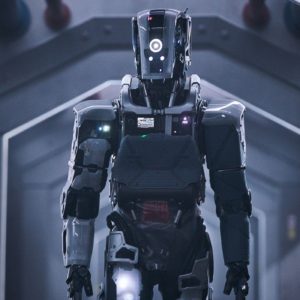 Mother's actions frighten Daughter who no longer knows who to trust. Daughter trusts Mother because she's the only thing she knows as a care-giver, authority, and teacher. A level of trust has been built up between the two through this intimate relationship. Daughter places her trust in Mother and doesn't question it. As a child and as a teenager this would seem reasonable. Trust in the mother-figure is natural. However, as Daughter grows older, she begins to see that she has misplaced her trust.
Theologically, what could the film say? What does it express about the trustworthiness of God, His nature, and how we think about God?
In a world without a god, who can be trusted?
In the Psalms, David proclaims,
"The LORD is my rock and my fortress and my
deliverer, my God, my rock, in whom I take refuge, my shield, and the horn of my
salvation, my stronghold" (Psalm 18:2)
Daughter's attitude toward Mother is the same as that of David to the Lord. However, Daughter's trust is misplaced. The problem here is that Daughter doesn't know that a god exists. She is ignorant of this fact, not of her own doing, but that of Mother's. Daughter begins to learn about faith when she meets Woman. Woman carries a cross made out of small twigs tied together by twine. Daughter and Woman have a conversation about faith. Daughter doesn't quite understand faith, neither does Woman, but she keeps faith regardless. Her faith can be related to the Israelites in Egypt,
"Israel saw the great power that the LORD used against the Egyptians, so the people feared the LORD, and they believed in the LORD and in his servant Moses" (Ex 14:31)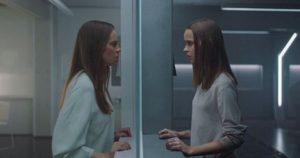 Fear in this passage can be related closer to something like reverence rather than fright. And so, Woman has a reverence for God.
Woman has confidence in her salvation. Just like David, "But I have trusted in your steadfast love; my heart shall rejoice in your salvation" (Ps 13:5). Upon faith, Woman convinces Daughter to come with her outside of the shelter. But Daughter isn't entirely sure what to believe once she sees where Woman lives. It's almost as if everything Daughter has once believed are all lies. She has no keep in which to place her trust.