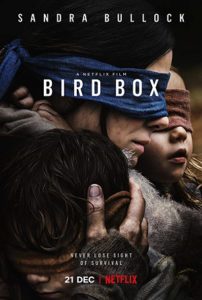 In a post-apocalyptic thriller, the same tropes and story beats can make a movie feel wrote. It generally takes something out of the box for it to stand out. Netflix's latest offering, Bird Box, starring Sandra Bullock and an ensemble cast that does little to compliment her performance, is reminiscent of stories in the same genre that we've seen lately. The largely unsuccessful M. Night Shyamalan film, The Happening, comes to mind as well as the popular show The Leftovers that wrapped on HBO last year. There's even a similar sensory deprivation concept in The Quiet Place, which unfortunately for this film, was released earlier in 2018. While Bird Box has some good moments, the film is too derivative to keep your focus for its sixty-four minute run time.
When we meet Malorie (Bullock) she is emphatically telling a little boy and girl that they are going on a "trip" down the icy river and they MUST keep their blindfolds on no matter what. Without much more explanation, we timehop 5 years earlier when pregnant Malorie is working in her art studio. When her sister Jessica (Sarah Paulson) shows up to drop off some groceries, she makes a passing comment about Malorie's boyfriend leaving her. We don't know why, but we know Malorie is about to face single parenthood. Jessica draws Malorie's attention to the news where reports of mass suicides across the globe have put people in a panic. Malorie gives it little attention as it's something happening elsewhere, not right outside her front door.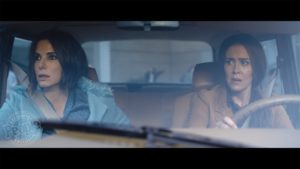 It's not until Malorie and Jessica are returning home from Malorie's doctor appointment and start seeing the mass panic and suicidal tendencies of the people around them that the film takes a shift and settles into its genre. We start to put the pieces together along with the main characters as they discover they are being attacked by "monsters" (represented by a gust of wind) who show people their greatest fears and cause them to commit suicide. Throughout the film we are jumping timelines as Malorie grows closer to her due date and Malorie's journey on the river with the two children. The editing and story structure doesn't do much to help the film as we are robbed of much of the tension that would be present in both timelines if we didn't have an idea of what was coming next.
Immediately following the initial attack, Malorie is able to find refuge with a small group of people in a house who immediately realize they need to blackout the windows and wear a blindfold outside. As is typical in the post-apocalyptic genre, a small group of people who manage to survive must work together to navigate this new world and personalities and opinions clash. Along with Malorie the group is rounded out by Tom (Trevante Rhodes), Douglas (John Malkovich), Cheryl (Jacki Weaver), Lucy ( Rosa Salazar), Olympia (Danielle Macdonald), Charlie (Lil Rel Howery), Felix (Machine Gun Kelly), Greg (BD Wong), and Gary (Tom Hollander).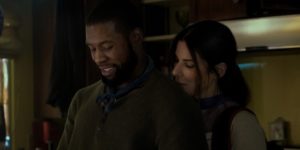 While messy and uncomfortable at times, a film like Bird Box reminds us that we need connection with others. It isn't until the world is turned upside down that the characters are reminded of what truly matters. A thread (though not tied up very well at the end) of Malorie's struggle to connect with the people in her life is ultimately what she needs to learn throughout the story as she fights to survive and protect the people she cares about.
To my surprise and disappointment, the film was written by Eric Heisserer who penned the beautifully structured Arrival just two years ago. His Oscar nomination and dozens of other awards and recognitions for his work on that film led me to believe his next project would blow me away, but with forced dialogue and other plot holes and questions by the end, Bird Box probably won't be the best thriller you'll see this year. However, if you enjoy the genre and are in the mood for a solid Bullock performance, it's not the worst choice for a home viewing.