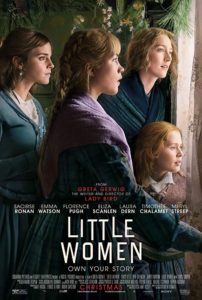 There are a shocking number of retellings of the classic story Little Women, so if someone was going to create another adaptation, a fresh perspective was necessary. It needed a reason to exist. It needed its own identity. I'm thrilled that Greta Gerwig's adaptation has both in spades.
Nostalgia-inspired movie watching can be a dangerous thing. I begrudgingly flipped on the live action remake of The Lion King after its Visual Effects Oscar nomination from The Academy only to be wholly disappointed by the uninspired version of a movie that was very impactful for me as a kid. Despite its technical achievements in animation (which if I'm honest creeped me out more than anything), the chorus of millennials groaning about this soulless remake proves just how risky reboots can be.
Disney's effort to tap into a now-adult audience with remakes of classic movies might be a shameless money-grabbing ploy, but they aren't ending anytime soon. Disney knows they will make money because movies are so tied to nostalgia. When moviegoers bought tickets to see The Lion King last year, they looked forward to reliving fond memories of their childhood and maybe even sharing the same experience with their own kids.
When I learned about another iteration of Little Women, I was cautiously optimistic. I grew up watching and loving the 1994 version. I hoped in Greta Gerwig's capable hands, this Little Women might generate the same wonderstruck experience I had as a young girl rather than leave me cringing at a failed attempt to tell a story that already has a successful book to screen adaptation.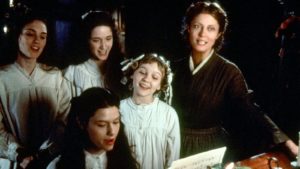 A pitch perfect cast including Winona Ryder, Christian Bale, Claire Danes, Kirsten Dunst, and Susan Sarandon did justice to Louisa May Alcott's characters in the early 90s adaptation of Little Women and even though I regrettably never read the book that has inspired so many American storytellers, the 1994 film was swept me up in the world of the March sisters. I wanted to act in Jo's plays. I wanted to go ice skating with Teddy on a frozen lake in the New England countryside. For me, the world of Little Women was enchanting and entirely honest.
The March sisters embody courage, hopefulness, and optimism in light of real-world struggles, including an absent father who is fighting in the Civil War. They're generous—led by a caring mother, Marmie, who gives to the poor and serves the war effort. Marmie's generosity and ability to stoke her daughters' passion for life is moving. Alcott creates beautiful female characters who are passionate and not deterred by the world. They are confident about who they can be and what they can do.
What Gerwig understands and Disney execs can't seem to grasp (or maybe don't care to because, well, money) is that nostalgia alone does not prop up a movie. But it the right hands, it doesn't hurt it.
Fortunately for anyone who watches Gerwig's retelling of this story, her defining characteristics as an artist are much like Alcott's—she cares deeply about the stories she chooses to tell and the characters she develops. The film is handled with such care and skill, it's astounding that this is only Gerwig's sophomore directorial effort. She graced us with her feature debut Lady Bird, which opened to rave reviews and topped many respected critics' top ten lists, in 2017. After starring in and co-writing a number of films with her partner, Noah Baumbach (who is also permeating the awards conversation this year), she finally got behind the camera with her semi-autobiographical feature.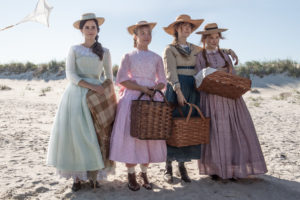 After a successful first film, Greta Gerwig took on the unenviable task of imbuing a well-worn story with a new identity, but she was the perfect candidate for the job. Her quirky sensibility and unique directorial vision pours out into every scene, breathing new life into this story. Gerwig's Little Women rises to the top. Not only as a faithful retelling of a story that has been part of the fabric of American Literature, but also as an exceptional piece of filmmaking.
In Gerwig's iteration, the March sisters' story is not told chronologically. Though the editing is one of the criticisms levied against the film, I would argue it's one of the defining creative decisions that helps it stand out from previous versions. Even knowing the ending, the time hopping keeps you hooked. The cinematography and lighting are carefully executed to help differentiate between the past and the present. The past features warmer hues, like a memory, and the present features a darker color palette.
The plot points remain the same, but career-best performances from Saoirse Ronan as Jo, Timothée Chalamet as Teddy, and Florence Pugh as Amy help reinforce this film as a modern classic. Their handle on the characters help to anchor us to the past or the present: Pugh especially makes a stunning transformation from a whiny adolescent to a sophisticated woman.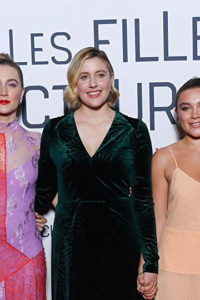 Given the marvel that this film is, it's no surprise that there was backlash when Greta Gerwig was not among the list of Best Director nominees for this year's Academy Awards. I was disappointed not to find her name among the male dominated list for yet another awards season. I've had this discussion with a few people since the nominations were announced and it always comes back to the same question – "who would you have her replace? Aren't the men equally deserving?"
The question of whether Gerwig "out-directed" any of the men who were nominated this year is not the only consideration. Recognizing Gerwig for her achievement with this film with an Oscar nomination represents something important. A best director nomination for Greta Gerwig would represent a shift in a culture that desperately needs it. It would represent an acknowledgement that there are different perspectives, female perspectives, that are important and needed. Scorsese, Mendes, Phillips, Joon-ho and Tarantino are deserving to be sure. But Greta Gerwig's brilliant directorial effort is on par with these men, and a nomination for her is much more weighty.
Since the story is so familiar I haven't gone into much detail on the plot, but whether you've yet to experience the story of Little Women, or you've watched every single adaptation, this film stands wholly on its own and deserves all of the praise it has received so far—even if a Best Director Oscar nomination isn't one of them.