On this episode of the Reel World Theology Podcast: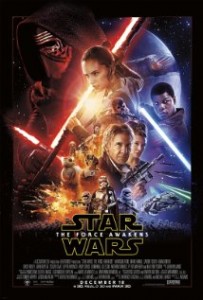 Watch out as the Hype Train pulls into the station. Star Wars The Force Awakens has finally arrived in theaters and it has been universally embraced as another solid entry into the Star Wars Universe. While there are some detractors, the overwhelming response has been positive and we revel in that for awhile. We also take the criticisms of the film being more of a remake than a sequel seriously and address what history tells us about stories we have heard before. Also, don't forget to check out our special EXTRA segment where we answer your Force Awakens questions along with proposing some of our own fan theories about the franchise going forward.
Download Episode 085 Here:
Reel World Theology #085 – The Force Awakens and Silencing the Critics
Reel World Theology on Stitcher
Reel World Theology on FeedBurner
Make sure you also check out our Listener Questions/Fan Theory EXTRA Segment:
This episode's panel included Josh Long, Blaine Grimes, and Josh Crabb.
Josh Long (@thejoshlong)
More Than One Lesson
Blaine Grimes (@Dept_of_Tourism)
Reel Thinking
Joshua Crabb (@HeyItsThatJosh)
RWT Contributor
13Past1 Blog
Podcast Notes and Links:
Star Wars The Force Awakens at IMDB
Star Wars The Force Awakens at Rotten Tomatoes
Star Wars The Force Awakens Review at Reel World Theology
A New Hope Awakens at Reel World Theology
Star Wars The Force Awakens Review at Reel Spirituality
Star Wars The Force Awakens Review at Reel-Gospel
Star Wars The Force Awakens Review at Norville Rogers
Star Wars The Force Awakens Review at Battleship Pretension
Star Wars The Force Awakens Review at 1 More Film Blog
26 Unanswered Questions ofStar Wars The Force Awakens at Slash Film