On this episode of Reel World: Rewind…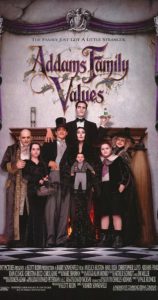 Leave it to Josh to pick a non-scary movie for October, but he tries his best by picking a horror-adjacent movie in the 1993 Barry Sonnenfeld movie, Addams Family Values. Enlisting the help of Blake Collier, they set out to find an explanation for why this movie is so great, doesn't feel dated, and also one of the more progressive comedies of the 1990's. While the episode itself might get a bit hyperbolic about the movie's "wokeness", Blake and Josh hail the exceptional characters, perfectly weighted gallows humor, and oddly exceptional use of the Addams Family to make incisive class-centric commentary. All in all, Addams Family Values toes-the-line of screwball and satire rather well and makes this sequel to a movie no one asked for completely worth a rewatch and a conversation.
Download Episode #031 here:
Reel World: Rewind #031 – Addams Family Values
Reel World Theology on Stitcher
Reel World Theology on FeedBurner
Reel World Theology on Google Play

Podcast Notes and Links:
Like Reel World Theology on Facebook
Join our Reel World Theology Discussion Group on Facebook
Addams Family Values on IMDB and Rotten Tomatoes
[youtube url="https://www.youtube.com/watch?v=IHgfQ-0lYbg"]
Music: "Dirt Rhodes" by Kevin MacLeod. Used under Creative Commons license 3.0.