On this episode of Reel World: Rewind…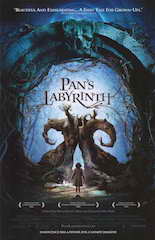 With the wide acclaim and 13 Oscar nominations of The Shape of Water, the latest film by Guillermo Del Toro, it seemed only appropriate to delve into his most widely acclaimed feature film, Pan's Labyrinth. Reel World Theology contributor Alexis Johnson joins Josh Crabb to discuss fairy tales, childhood, Del Toro's grotesque yet captivating imagery, and the magic of hope found in the worst of life's cruelties.
Download Episode #024 here:
Reel World: Rewind #024 – Pan's Labyrinth
Reel World Theology on Stitcher
Reel World Theology on FeedBurner
Reel World Theology on Google Play

Podcast Notes and Links:
Like Reel World Theology on Facebook
Join our Reel World Theology Discussion Group on Facebook
Pan's Labyrinth on IMDB and Rotten Tomatoes
[youtube url="https://www.youtube.com/watch?v=EqYiSlkvRuw"]
Music: "Dirt Rhodes" by Kevin MacLeod. Used under Creative Commons license 3.0.