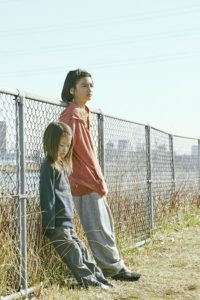 Shoplifters snuck up on me. It seems as if the film has been surprising audiences since its debut at the Cannes Film Festival when it took the highest honor, the Palm d' Or, at the prestigious gathering – beating out top contenders like Capernum and BlacKkKlansman. Not only does director Hirokazu Koreeda weave a sense of mystery into his humanistic storytelling, he also packs a subtle emotional punch with his handling of each of the characters in his latest film about a family on the edge of survival.
The film opens with a scene between a man and a young boy executing what we can only assume is a well-practiced shoplifting ritual. Osamu, the teacher, and his young son and apprentice, Shota, seem to find a kinship in their illegal activity – slipping out of the store with their heads held high and a certain amount of pride and giddy camaraderie in their accomplishment.
As they make their way back to their crowded makeshift home, they come across a young girl, Yuri, sitting on a porch alone. Not sure whether or not the girl is homeless, they offer her a croquette and bring her with them. Met with protests from the mother, Nobuyo, the grandmother, Hatsu, and older sister, Aki, it's apparent they are already struggling to live comfortably and they have enough mouths to feed.
As more of the story unravels and we learn about Yuri's origins and how the family came to live together in the first place, Koreeda gives us a lot to think about. Most poignantly, he explores what it really means to be a family. Do biological ties really trump a bond that is formed by shared experiences of suffering or a genuine effort to not only meet physical needs, but emotional ones?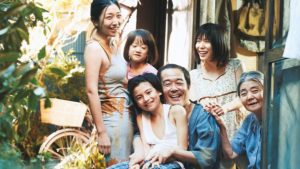 In a culture that is normally portrayed as valuing honor and pride, Koreeda sheds a harsh light on the reality that many families face, especially when societal norms break down. A grandmother who would traditionally be taken care of by her younger family members has to find creative ways to make ends meet. A couple that is faced with meager wages at blue collar jobs find themselves in dire straits in the face of a workplace injury and are drawn together by their desire to care for their children and pass on what minimal skills they have – even when that means teaching them to steal.
Shoplifters plays in a lot of gray areas. In a complex presentation of family dynamics, adults who seem to struggle with their own concept of adulthood lean on their kids emotionally at times more than the kids lean on them. It's Shota's own conscience and wrestling as he grows up that really starts to rub up against the "adults" attempt at justifying what they do.
Set in a completely different culture and context, Shoplifters carries similar emotional beats and themes as last year's The Florida Project. Both directors seem to have captured and presented their subjects in a way that lets us as an audience wrestle with the moral implications while reserving judgement about the choices they have to make to survive.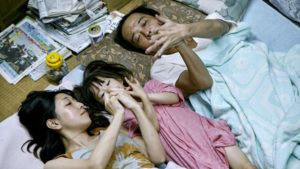 The power of Shoplifters to sneak up on your while you least expect it is an experience that lasts beyond your time in the theater. While you're wrestling with the reality of institutional and generational poverty, you're also intrigued by the shady details that continually come to light and are emotionally stirred by the characters' deep need for connection. I spent several days processing what I had seen after my viewing. There aren't many films that you will see this year that are handled with the emotional deftness that Koreeda has accomplished here. It's a privilege to witness.