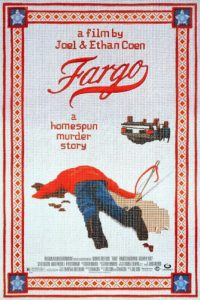 The Coen Brothers are widely considered to be among the most unique and acclaimed writers working today. They frequently present us with memorable characters, original stories, and oft-quoted dialogue that masks deeper themes somewhat hidden below the surface. Many of their films depict unrest with life, such as criminal trying to make amends for their past mistakes (O Brother, Where Art Thou?), or innocent people who get caught up in some shady business (No Country for Old Men), or even a character who is just frustrated with their situation (A Serious Man). While initially a relatively unknown name in entertainment (making smaller dramedy films like Raising Arizona and Barton Fink), they earned much greater mainstream success with the 1996 dark comedy Fargo.
Although it comes wrapped in a quirky, darkly-funny package, Fargo tells us a very violent, and even cruel, story that serves as a reminder about the coldness of sin. At the start of the film we see car salesman Jerry Lundegaard (William H Macy) hire two criminals to kidnap his wife, so he can indirectly extort her father for a ransom which he intends to use to start a business. Things ago awry during the kidnapping and the two criminals end up murdering a cop as well as two witnesses. Upon discovering the crime, local Police Chief Margie Gunderson (Frances McDormand) decides to investigate.
Comparisons can easily be drawn between the three sets of characters the story follows: the criminals, Jerry and Margie. The two criminals (Steve Buscemi and Peter Stormare) are petty, cruel and unconcerned with the effects their actions may have on others. Every action they undertake is self-serving, they take on the job to kidnap Jerry's wife in order to make money. Although their goal is to "get away with it" thus not get caught, their sin is the unfiltered form that ends up hurting the most people, even themselves. Both criminals end up suffering a great deal of personal pain before the film reaches its conclusion.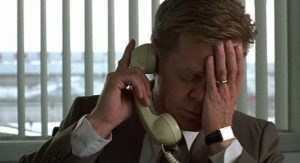 Jerry's violence is the hidden kind. His wife is perfectly kind and supportive of him, he could probably get her to ask her dad for the money Jerry needs, but his pride prevents him. Jerry ducks responsibility when dealing with a loan officer regarding some information Jerry has falsified which is something that could lead to the bankruptcy of his car dealership and the loss of many jobs. Finally, Jerry cares little for his son's distress when his mother is kidnapped, mostly ignoring him throughout the ordeal. Most of us are not literal criminals, robbing banks and kidnapping wives, but many of us are Jerrys. Often other human beings can becomes tools to us, we try to duck out of the way of consequences to let them fall on another's head, more worried about how we can get ahead than the pain our selfishness inflicts on others.
One of the few likeable characters in the movie is Police Chief Margie. She shows kindness to everyone she meets throughout the film, even an old classmate who seems to be trying to persuade her to cheat on her husband (she doesn't). Throughout the film she appears largely unfazed by all that she uncovers and experiences. Towards the end of the movie Margie tells another character that "there's more to life than a little money, don't you know that? Here you are. And it's a beautiful day." She doesn't care about climbing on other people to get what she wants; she has it. It is this contentment that enables Margie to be the only major character in the film who doesn't under-go major suffering, because she has made peace with her life.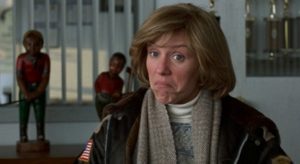 Fargo reminds us how cold and uncaring sin can be, in fact, the frigid and snowy landscape the film is set in reflects this idea. Although most of us do not feel a need to act outside of the law to get what we want, the temptation to cut corners and step on others to make ourselves more secure is there for all of us. Selfish action often begets painful rewards. However, sometimes those who do wrong do succeed and those who are innocent suffer. Lust for success over our peers can drive us to incredible acts of cruelty, but not always. It is our challenge to graciously accept the life God has given us and make peace with it, as Margie does.