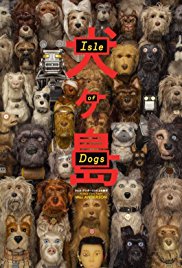 I found myself with a great deal of trouble trying to get to a showing of Isle of Dogs by Wes Anderson.  My first attempt took me a great deal further away than my usual Cineplex. But even then, I was turned away with a small crowd at a small art theater as we were told the only showing of the night was sold out.  Luckily for the readers you did not have to worry about not getting a review because I dusted off the crystal ball from the Reel World vault and was able to conjure up a perfect prediction of what to expect…well, almost.
Knowing Your Pedigree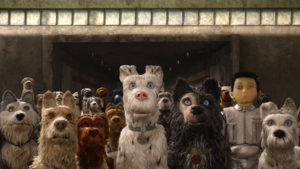 Wes Anderson always has been and always will be an acquired taste.  He blocks his scenes like a person with OCD setting out flatware for a dinner party.  His protagonists are young men dealing with the transition to adulthood or at least accepting responsibility.  He uses multiple actors over and over again.  He uses an elaborate plan explanation scene usually with diagrams in nearly all his films.  There must be an awkward relationship between boy and girl, fitting for the protagonists he chooses.  And he likes to use a pop song from the 60's or 70's in the soundtrack.  For some, style this specific could be seen as a slavish tic more than stylistic choice which is where much of the division between critics and audiences derives from.  Personally I find a bit of repetition to be comforting so you can be prepared for what to expect.  My wife finds entertainment in knowing what to expect, too.  I described to her all the tropes and trappings of classic James Bond movies before she saw Skyfall with me, as her first James Bond film, and she laughed as each element popped up on screen as predicted.  I also showed her a list of what was coming in Isle of Dogs and she had a great time with that as well.  It can be a game, of sorts, to see how the director will incorporate different elements in new ways.  It could also turn out to feel like you are watching the same movie over and over again.  All that to say, if you have seen a Wes Anderson film before and didn't like it you probably won't like this one either.  If you have liked previous Wes Anderson films, you are already trying to see this one, so good luck finding a showing.
Dog Show
I will say that this movie has the broadest appeal of any film Wes Anderson has made to date.  Will it convert staunch haters? No.  Will it appeal to children? No.  But I think it rivals The Grand Budapest Hotel as the new suggestion for an entry point to determine if new viewers will like any of Anderson's films.  The comedy feels a little funnier, and the awkwardness a little lighter than his previous outings.  Though this is only the second fully animated feature I still feel Isle of Dogs and Fantastic Mr. Fox are true representations his styling and definitely his casting choices.  I would highly recommend this to people who are curious to see a unique voice in film or those that were left on the fence from a previous work of his, especially Fantastic Mr. Fox or The Grand Budapest Hotel.
Pro-Dogs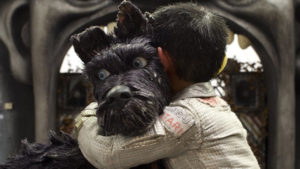 I appreciated just about every directorial decision I saw in Isle of Dogs.  The opening lets the viewer know that the characters that natively speak Japanese will only speak Japanese without subtitles.  Luckily for our American viewers he creatively employs means of translating what is being said for the audience, whether that is a literal interpreter in the political broadcast scenes or context clues and dialogue from the many dogs whose words are rendered in English as the opening titles describe.  The cast is always impressive in a Wes Anderson film and he continues to choose great actors and actresses to voice his English and Japanese characters without falling prey to white-washing tendencies known of other Hollywood productions.  I mentioned Anderson's repeated elements earlier and here he gets to play with them in creative ways.  Typically we would get to see a 12 year old boy growing up and becoming a man dealing with his awkward romance with the girl from the trailer.  Anderson gets to stretch his formula this time around and we get to see Bryan Cranston's "Chief" and the young boy's body guard dog "Spots" grow and mature instead.  And I love the animation style.  Some don't like stop-motion animation at all, but I have always enjoyed and respected the time it takes to make good stop-motion film.  Both Anderson's fully animated features use more fibers and fabric where most other productions use smoother more controlled clay.  Here he uses a bit of both which gives good contrast in texture between the human and dog characters.  I knew I'd love it from the moment I saw the cotton cloud used for the fighting sequence in the trailer and I'm glad to say the crystal ball was right about the explosions…and surprisingly the robots!?  At least there weren't any racist stereotype robots.  And there are a ton of tiny details in every shot to take in.  My wife noticed animated mosquitoes hovering over water near the beginning and you can find meticulous care to incorporate things like that from start to finish.
Digging for Scraps
There aren't many themes in this film that Wes hasn't tackled before or really any new ideas to add to those old themes, but maybe this will be the Wes Anderson movie that everybody ends up seeing at least once and gives you a chance to talk about it.  The main character and his plight do bring to mind the story of Moses and the Israelite nation.  There is an unwilling hero waiting to step, or be pushed, forward who affords himself more opportunities as he accepts more callings. There is another hero who must decide how and when to transition from one calling to another possibly higher calling. There is also a good concept following the lone American character who is trying to get to the bottom of a vast conspiracy to expose the truth. But not just for the sake of knowing it or for her glory but to liberate a displaced and wrongfully abused society, in this case made up of dogs.  I could go into more detail but I don't want to include any spoilers in this review.
Broadcast Interruption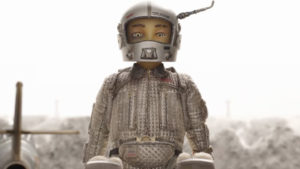 Speaking of spoilers…that was the one thing our crystal ball was off about.  We did have that weird connection issue right about then so next time I'll make sure our Wi-Fi and Movie Pass are properly synced with our refracting lens optimizer to avoid any future foibles.  But you no longer have to fear a ferocious, seizure inducing stereotype monster. Though, you really are missing out on a great battle sequence.  I wonder where it was picking that up from in the first place.  At any rate Isle of Dogs is a great revisit of themes that will always be relevant multiple times in our lives and relevant to each new generation.