Our contributors have taken a peek into the netherworld and brought back three recommendations to make your weekend a little more horrific. Gaze in wonder, but don't look too long and enjoy a movie or town that might keep you up this weekend. Happy scary movie watching weekend everybody!
[divider top="no"]
via Scott Kelly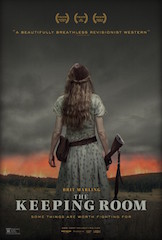 The Keeping Room (Netflix) – My attention was originally drawn to this film by its impressive cast list. Brit Marling (of Another Earth fame), Hailee Steinfeld, and Sam Worthington in a western set near the end of the Civil War? Sign me up for this conflict. However, I wasn't prepared for the riveting, unflinching look into the darkest hearts of humanity near the end of America's greatest conflict. If one thinks ofThe Keeping Room as an apocalyptic film and not just a western horror/home invasion thriller, it holds so much more significance. We witness the lives of three women ending; all in their own separate ways and all as the world around them crumbles and collapses. The final shots of this film will haunt me, as I've never fully considered the American Civil War as the apocalypse it must have felt like for so many.
[divider top="no"]
via The Film Avenger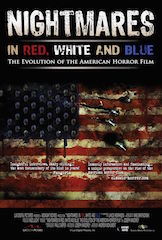 Nightmares in Red, White, and Blue (Netflix) – 
The modern horror genre befuddles me. Horror used to be smarter, and in more capable hands like Hitchcock. Today, it shocks for the sake of shocking, with an overabundance of gratuitous blood and gore, devolving into the "torture porn" of films like
Saw
and
Hostel
. This documentary about the emergence of the modern masters of horror (Wes Craven, Clive Barker, John Carpenter and the like) really opened my eyes about the origins of the modern American horror film. The film explains a lot about how modern horror emerged from a negative reaction to 1980s American culture, which was more conservative generally. The filmmakers seemed to be lamenting the loss of the counterculture of the 1960s and 1970s, which is kind of pathetic and sad. If you're a fan of modern horror, be sure to give this film a look. It really gives the viewer insight into the minds and motives behind the cinematic carnage.
[divider top="no"]
via JR Forasteros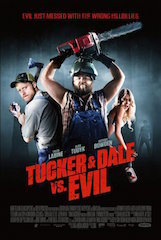 Tucker and Dale vs. Evil (Netflix) – This is a totally generic "college kids go to a cabin in the woods and are terrorized by hillbillies" movie. You saw it in The Hills Have Eyes. You saw it in Wrong Turn or The Texas Chainsaw Massacre. Except for this time, you're seeing it through the eyes of Tucker and Dale, the titular hillbillies, who are the two nicest fellas you'd ever want to meet. They've just bought a new lake house (which everyone BUT they can see once belonged to a serial killer). And those college kids may not be able to see past their prejudice long enough to clear up a series of admittedly unfortunate misunderstandings. Tucker and Dale vs. Evil is one of the great horror-comedies, alongside The Final Girls, Scream and A Cabin in the Woods. Watch it if you need a laugh or have a friend who just isn't all that into horror.
[divider top="no"]