I feel all end-of-the-year lists have to be prefaced. "What about this film?" "How could you place this type of movie so high—or that type of movie so low?" Yeah, yeah. It's a reality. Well, I would preface my 2019 list by reaffirming what I feared coming out of the summer; it was not a great year for movies, overall. Sure, there were, and are, a few gems (some of them uncut!), but I felt, more than previous years, we were inundated with a barrage of perfectly fine films. You know, films that you didn't hate—in fact, they may have been pretty good—but when you compare them to your all-time list, I would wager that few 2019 movies are shooting up anyone's list. This isn't necessarily a bad thing. I love that movies are generally good. But I also lament that we did not get many movies that I believe will be timeless.
So, in a year that I am generally down on, here are the films that stuck out to me and I assume I will think about when I think back on 2019.
#10: Knives Out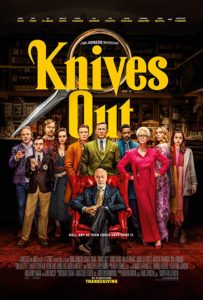 Despite the fact that the trailers for this one looked incredibly fun, I had a lot of reservations due to the writing and directing of Rian Johnson. Yes, I'm one of those who thinks that he did his level best to nosedive the Star Wars franchise. A lot of great ideas with poor execution. Too reliant on the "subverted expectations." Fortunately, a good ol' whodunnit fits quite nicely with a writer who wants to constantly subvert my expectations. Knives Out turns into a very fun, very charming murder mystery with an engaging cast that makes you want to never want to take your eyes off the screen. Couple that with a lovely subversion of immigrant and wealth stereotypes and you have something that is both fun and contemplative.
Knives Out review on Reel World Theology
#9: The Nightingale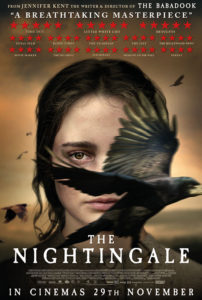 I am not really sure where to start with this—or how to describe it. Jennifer Kent's follow up to The Babadook incurs the same sense of dread. In a discussion of female director snubs this year, she is currently the only argument I would be willing to hear about rightfully being included on the list. Her ability to do so much with so little is astounding. A tale of a woman seeking revenge on those who took everything away from her (and not figuratively; there are a few scenes in the movie that are so rough that even describing them ruled out watching the film for some folks) is incredibly thought-provoking and dark, and somehow a little hopeful… but just barely. I am sad that this film wasn't seen more widely.
#8: The Two Popes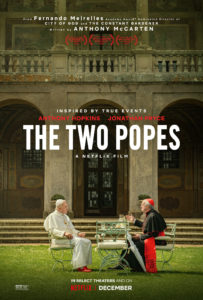 Yep. I know. This film over-simplifies the general theological stances of two different Popes. I get it. I know that it embellishes and fictionalizes a number of things. But, I also don't care. My lack of care does not come from a place of willful ignorance. I care about the truth and nuance of each of these men, but I think to place that on the shoulders of this film is to miss the point. In a world where the Pope is often revered as some fully transcendent entity and in a culture that is increasingly suspect of the church and it's leaders, to have two incredible actors portray to real men wrestling with their faith and their place in that faith humanizes both of them in a way that truly captures the magnitude of the weight they carry. I found it beautiful and inspiring, both as a story about humanity and a story about God's ultimate faithfulness to his people.
#7: Dolemite is my Name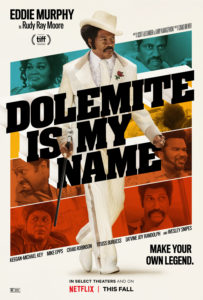 When I queued up Dolemite is my Name, I mostly expected to laugh a bit and see Eddie Murphy turn in another solid performance. I did not expect to be sucked into a world where a man refused to let people crush either his creativity or his vision. Murphy turns in one of his career bests and has us rooting for Rudy (the man who becomes Dolemite) every step of the way. By wasting no time with cynicism, we are treated to a truly amazing story of a man who not only loved what he created but loved the people for whom he created. There's something there.
#6: Joker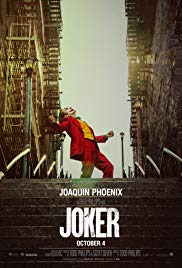 If you didn't like Joker then you can get right out. Go away with that nonsense. I'll entertain arguments that it isn't the best movie of the year (it's not), but all of the arguments are tired (outside of movies that are dark just aren't your thing). Yes, Todd Phillips borrows from Scorsese. That is literally what every Hollywood director has done for decades now. I think the closest criticism you could levy is not needing to portray violence as an answer to injustice—or equating the mentally ill with violence. I would argue the film doesn't do this because it clearly opens the door to showing that, in the end, Joker was playing with us, triggering us, the whole time. For a film that I considered wholly unnecessary, I am glad this one got made. A career milestone for Joaquin Phoenix as well, which is saying a lot.
Joker on the Reel World Theology Podcast
#5: Parasite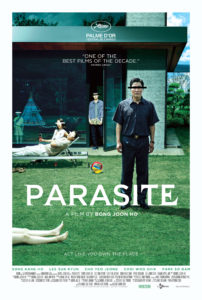 Honestly, I think would have my money on this film winning Best Picture if it wasn't already slotted to win Best Forgeign Language Film. Voters are weird. Regardless, it would be worthy of both/either. Bong Joon Ho, a storyteller of modern cultural parables, possibly perfects his craft (to this point) by giving us a film that is equal parts intriguing as tense. He also slowly brings us into the nuances of the story so that we get to flip-flop multiple times between who we see as the host and who we see as the Parasite— all the while waving a huge sign letting us know everything is broken.
#4: 1917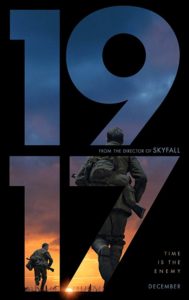 1917 is a film that was made to be experienced. In a similar vein to films like Avatar (in 3D), Gravity, or Dunkirk, you can tell that extra attention was taken to immerse you in a theatrical experience. And, well, it works! Director Sam Mendes and cinematographer Roger Deaking do everything in their power to place you in the shoes of our heroes. The result is something that reminds you of why we still go to the theater in the first place. The film becomes tense, foreboding, and ultimately lands as another submission in the "anti-war war film" genre. One of my only hesitations with the film is, much like the films I have mentioned previously, outside of that tense unknown of a first viewing, most of those films have landed fairly flat on repeat viewings. How will 1917 hold up on repeated viewings from the comfort of a living room?
1917 review on Reel World Theology
#3: Ford v Ferrari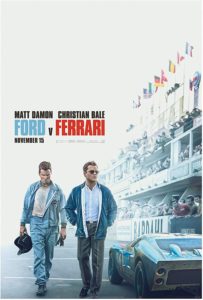 I am starting to think that I just love racing movies. I mean, I have little interest in actually watching Formula One or NASCAR, but for some reason, when a movie is about racing, it gets me. In this case, repeated viewings have made me realize how criminal it is that Christian Bale wasn't nominated for a supporting actor award. He and Caitriona Balfe, who plays his wife Mollie in the film, are charming. I believe I also have a soft spot for people doing the thing which they seem created for. Ultimately, I think a lot of the strength of the film rests on the fact that there is no looming villain but the hardships from every direction that try to keep us from doing that for which we seem destined.
#2: Jojo Rabbit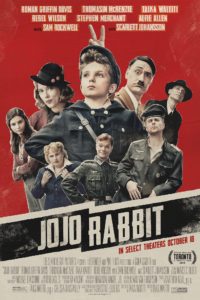 I have been profoundly impressed with the work of Taika Waititi since coming across What We Do in the Shadows. That trend continues with his latest, Jojo Rabbit. Again, Waititi finds a way to thread the needle between irreverence to institutions, comedy, and real tragedy in a similar vein to his previous film, Hunt for the Wilderpeople. There have been some detractors who have either argued that you can't make fun of Nazis (really?) or others who accuse it of trying to argue that all a Nazi would need to stop being a Nazi is to "get know some Jews." This seems like the least generous—or nuanced—reading of the film, equivalent of trying to read the Bible as only a literal document (especially since our main character isn't a Nazi, which the film points out repeatedly). Instead, we see the beauty of a mother teaching her son, by example, what is right in the world, despite everything in the world (or culture) around him telling him something different. Beautiful, heartbreaking, and hopeful. It would easily be my favorite film of the year if not for…
Review of Jojo Rabbit on Letterboxd
#1: Avengers: Endgame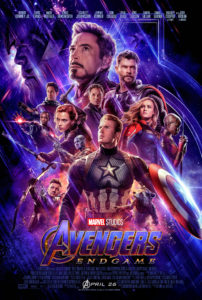 Listen. I don't care that it's a blockbuster. I don't care that it's not directed by Spielberg or Scorsese or whoever. I don't care that it wasn't a product of A24 studios and thus can't be considered a "real film." Heck, I don't even care that it's just more of Disney dominating the box office. If there is anything that the season finale of Game of Thrones taught us, it's that landing the plane after nearly a decade is one of the most challenging things in all of storytelling to do. Endgame is a Boeing C-17 laden with over 200 tons of fan theories and expectations that absolutely sticks the landing. It is fun, fulfilling, and incredibly rewarding for fans who have been there every step of the way. I don't think that can be stated enough. In the same way that Tarantino shapes a script, or Roger Deakins frames a shot, the Russo brothers have brought comics to the big screen. Oh, it also helps that, of all the films on this list, Endgame will be the most rewatched film— and I would argue, the movie that defines 2019, regardless of who takes home the Oscar.
Avengers: Endgame on the Reel World Theology Podcast
• •
Honorable Mentions:
Rocketman
Ready or Not
Klaus
John Wick: Chapter 3 – Parabellum
Uncut Gems
Fighting With My Family