Our Top 5's continue with a category slightly flipping the script on the recent Oscar-nominations. While the most-likely candidate to win the Oscar this year squeaked into our Top 5, we are still in shock over the snub of our #1 from the Academy. However, all of the wonderful women represented in our staff's Top 5 made their movies better, and we are happy to present our list and hear some of your favorites from 2016.
[divider top="no"]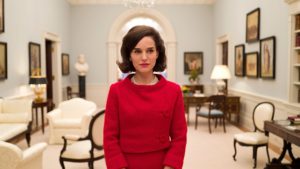 5) Natalie Portman, Jackie
When you think of Natalie Portman, what do you think of? If you answered anything but Padme Amidala, you are lying. However, after Portman's performance in Pablo Larraín's Jackie, we hope she can be remembered as Jackie Onassis, and she would appreciate it, as well. She delivers a measure of class that comes with a First Lady and a celebrity/fashion icon and balances it with steely, aching pain over the sudden loss of her husband. Daniel Melville Jones put it best in his review:
"Which Jackie stands strongest in your memory after watching this film? Perhaps it is the emboldened Jackie, protecting her husband's image among the powerful world of men. It is this Jackie that strides forward through the rain soaked cemetery, ignoring the muck around her heels as she leads the men around her to a suitable grave site. Or perhaps its the angry Jackie, hiding behind her bitterness, lashing out at the Irish priest brought in to counsel her. They walk through a long row of tall trees, a rare private moment in a life surrounded by people. As they talk, her hard layers of anger peel back to reveal the deep confusion and grief they were protecting. This conversation keeps reappearing in the film's chronology, like it must have run through her head again and again that week."
[divider top="no"]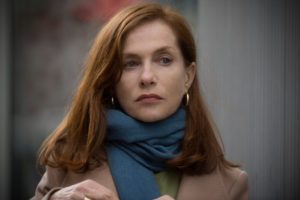 4) Isabelle Huppert, Elle
Isabelle Huppert had an incredible year in 2016. She co-starred in Trier's Louder Than Bombs and was fabulous. She starred in Mia Hansen-Løve's Things To Come and gave a graceful and multi-faceted performance. And then she worked with Danish provocateur and one of Josh's favorite directors, Paul Verhoeven, in Elle. In this movie, she is arguably the strongest as a female rape victim who refuses to be treated like a victim. She is strong, powerful, slightly psychotic, but ultimately a real human performance you could imagine someone experiencing what Huppert's character undergoes in Verhoeven's film. It is certainly disturbing, but Huppert's virtuosity as an actress counters any of the discomfort you may feel with the subject matter explored.
[divider top="no"]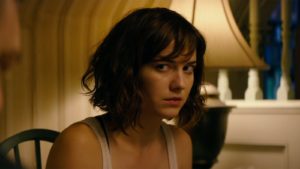 3) Mary Elizabeth Winstead, 10 Cloverfield Lane
Josh says it best when he spends most of his 10 Cloverfield Lane review praising Winstead:
"[T]he real star of the movie is, as one other fellow reviewer described it, the Riley-esque performance of Mary Elizabeth Winstead. With an inquisitive confidence, at no point in the movie does Michelle take her current situation sitting down, even when being put back into place by the burly fuming of Goodman. She is not going to take pat answers from the off-putting reassurance of Howard, or even the more timid Emmett, but is determined to extricate herself from the bunker and find out for herself. Not only is it refreshing in the face of a very dominant and scary performance from Goodman, but it is fun and exciting to see her take risks, get answers, and eventually science her way to more answers and the climactic reveal."
[divider top="no"]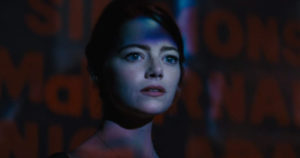 2) Emma Stone, La La Land
Stone is at her absolute best in Chazelle's musical. There has been some criticism regarding the writing of Stone's character Mia as very flat and two-dimensional, but Stone's performance rescues this threat of obscurity and transforms her into a compassionate, lovable on-screen persona. The hallmark of any great performance is elevating the material and Stone does that. For someone who starred in Cameron Crowe's abysmal Aloha in between Oscar-nominations for his and Birdman, this is certainly a great "high", especially in comparison to the low, for the young actress. Since our #1 was not nominated, do not be surprised Stone takes home her first Academy Award at the end of February.
[divider top="no"]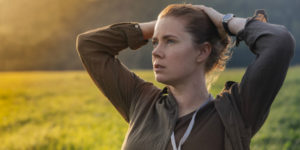 1) Amy Adams, Arrival
When Alexis reviewed Arrival  for us in November, she had this to say about Amy Adams' Louise:
"She is a solid heroine, the kind I've been waiting for. Why? Because she's subtle. Though she exerts authority in her field and tells it like it is, she also presents a strong, intelligent case for her methods with a level head and an even temper in the face of staunch military personnel. One of my favorite moments is when she tells Colonel Weber the story of the word "Kangaroo" and how the English misinterpreted the Aboriginal word to be for the marsupial, when it really means, "I don't understand." When Colonel Weber leaves the room she reveals to Ian that she made the story up, but it proved her point nonetheless. "
Adams had the standout performance in 2016 for playing her even-keeled, cerebral role. How she is not nominated for an Oscar? Well, it's the Academy, so who knows what they are thinking.